Anjan Sen Podcasts
Anjan Sen Podcasts
From the Kalpa began imagination
From the leaves of the Meghduta , a grey cloud
Floated down in front of us.
The Kalpadruma shuddered
Gold Silver dust kept falling
Diamonds coals mud kept falling
The eyelid flickered
One bird is flying become Bihag
A woodcutter was gathering wood from Kalpadruma

(Translation: Amlan Dasgupta)
Shadow
The shadow shakes
The shadow"s shadow floats
In the room on the edge of the river
Long long painted scrolls
The story comes in pieces and goes on
In the mind"s long painted scroll
Long painted eyes a body in the eyes
But she"s not at home
There"s no speech, only speech"s shadow
These images from words
All blessed illusion

( Translation: Jesse Knutson)
Sravan
The sky shivers with the swing of rains
the rain drip-dropdrenching the visionary world
O grace . O thunderous grace, quench the cosmic thirst
In the rice field, the festival song is on
In the roots, the swing of the rains
Towards their rock the pilgrims move
their shoulders heavy with the sacrosanct water
Pouring water - Sravan takes a shower
Once again the song of desire for grain
The rock has been washed by many monsoons.
(Translation: Amlan Das Gupta)
(Illustrated by Diana Magallón, Mexico)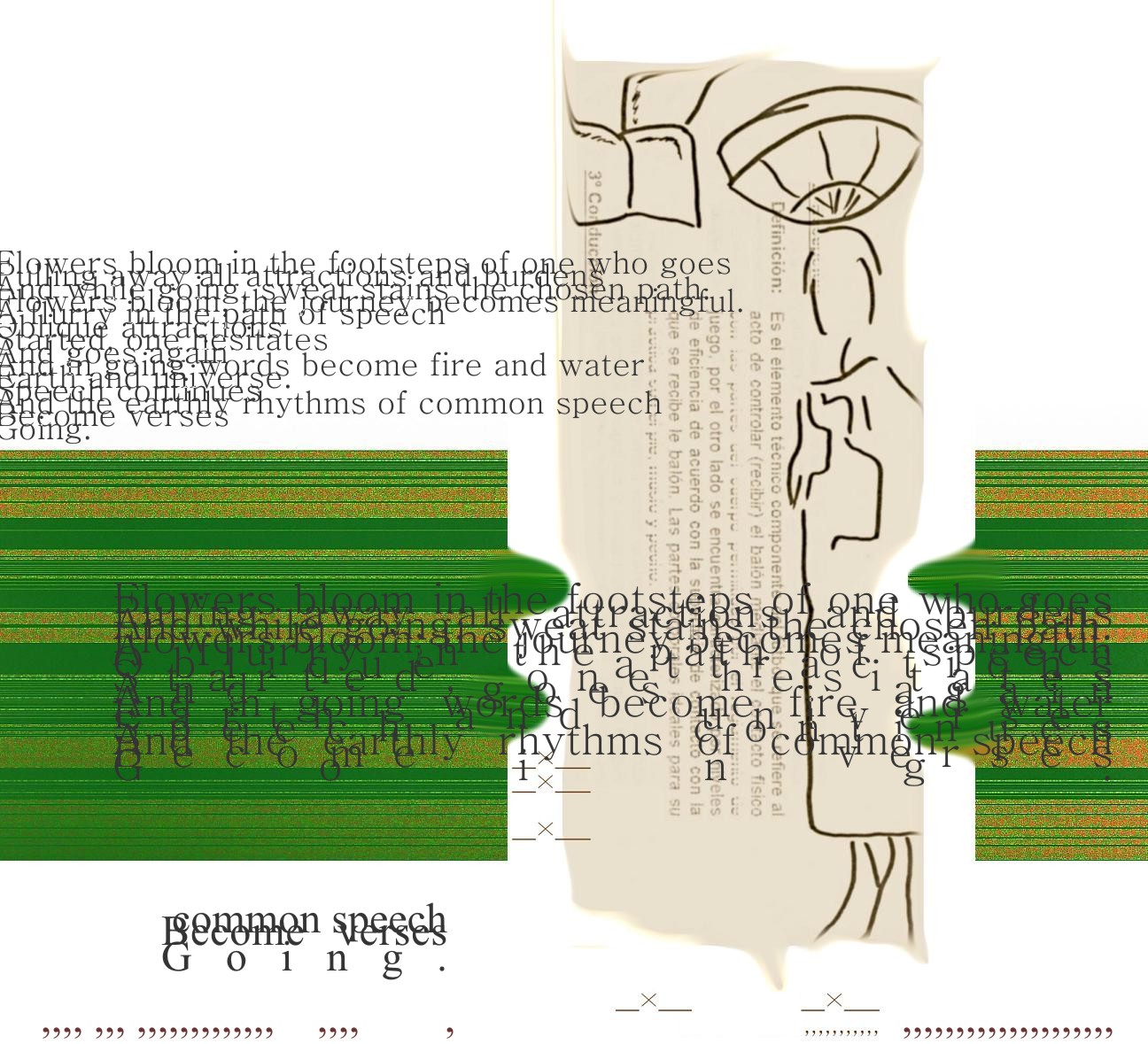 Cholaa / Journey
Flowers bloom in the footsteps of one who goes
Pulling away all attractions and burdens
And while going, sweat stains the chosen path.
Flowers bloom, the journey becomes meaningful.
A flurry in the path of speech
Oblique attractions
Started, one hesitates
And goes again
And in going words become fire and water
Earth and universe.
Speech continues
And the earthly rhythms of common speech
Become verses
Going.
(Translation Amlan Dsgupta)
(Illustrated by Diana Magallón 1989)