RIGID-INERT PICTURE SUPPORTER PROTOTYPE
RIGID-INERT PICTURE SUPPORTER PROTOTYPE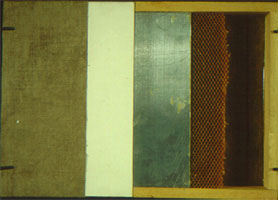 Sample of the new pictorical supporter
This invention relates to a design and method for manufacturing new, stable, lightweight universal supporter made primarily of synthetic products and applicable to all pictorial procedures and techniques on easel or with the possibility of adapting to complex architectural spaces.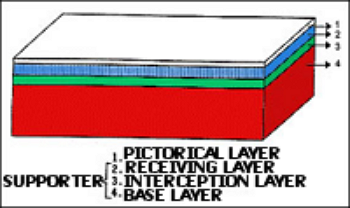 Internal structure of the new pictorical supporter
Taking into account the drawbacks of the pictorial supports currently used, an ideal supporter would have to be formed by a very stable inert structure, which had no oscillations in the face of changes in humidity and temperature, and would be free from biological attacks.
On the other hand, this structure must allow painting on it and must be compatible with other layers so that the painter can obtain a great diversity of aesthetic effects. This ideal supporter, as a model or prototype, has been designed as shown in the figure. In short, new supports are more stable than those used up to now, even in adverse conditions, do not coerce the artist because they allow him to work with any technique and prevent the serious conservation problems that have a large part of contemporary pictorial works.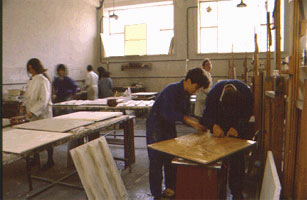 Restoration in the Faculty of Fine Arts.
Faced with the negative behavior of the media that the market offers today, the proposed supports do not suffer the damages mentioned above and are configured in such a way that the movements are virtually minimized or are synchronous to those of the pictorial layer, therefore, the durability of the work is augmented.
Where has it been developed
This technology has been developed in the Department of Painting-Restoration of the Faculty of Fine Arts of the Universidad Complutense de Madrid.
The research group can also perform other research and development of materials, procedures and pictorial techniques, both traditional and based on new technologies.
Contact

© Office for the Transfer of Research Results – UCM
Faculty of Medicine. Edificio Entrepabellones 7 y 8.
C/ Doctor Severo Ochoa, 7. 28040 Madrid.
comercia@ucm.es
Versión en español

English version

Manuel Huertas Torrejón: mhuertas@art.ucm.es
Department: Painting-Restoration
Faculty: Fine Arts