[...]
Pío Zabala y Lera (1879-1968)
Pío Zabala y Lera (1879-1968)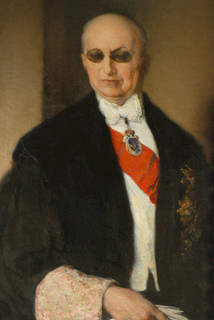 Dr. Lera studied at the Universities of Valencia and Madrid, earning bachelor"s degrees in Philosophy and Law. In 1904, he earned his PhD for the thesis entitled "History of University". In 1906, he held the chair of Contemporary History in Valencia, but soon thereafter moved to University of Madrid. During that time, he was connected to Maura"s Conservatives and was elected a Member of Parliament, serving several terms in office. Subsequently, he held various positions in the Ministry of Public Education.
Dr. Lera was appointed Rector in March 1931 during a tumultuous period in history, he resigned shortly after the proclamation of the Second Spanish Republic.
He was laid off from his position as Professor by the republican government at the beginning of the Civil War. He collaborated closely with Pedro Sáinz Rodríguez, who would be Ministry of Education during the Franco government. After the war, Dr. Lera held leadership positions, including President of the drafting committee on the higher education reform, Rector of the University of Madrid (1939-1951), Member of the Royal Academy of History, Member of CSIC, etc.
Pío Zabala Lera"s Literary Works (UCM Library)
The University during the Franco Regime
From the Spanish American War to the Spanish Civil War