2016
2016
December 2017
December 2017
December 2017
November 2017
November 2017
November 2017
November 2017
November 2017
November 2017
November 2017
November 2017
November 2017
1st CTcan + Women"s Day. Candelaria
Bioceramics 29. Keynote lecture.
Conference at I Forum Gadea Science.
Profs Maria Vallet-Regi and Antonio Salinas teach a Course in Guadalajara, Mexico
Conference at ESNAM
ICONAN 2017. Plenary Lecture
ESB conference
ESB 2017. Special fellow session
ESB 2017. Workshop: Women in Biomaterials Science
ESB 2017.
Prof. Vallet picked up the Julio Peláez award
"Bio-applications of chemistry". Conference at UIMP
"Controlled Release of Drugs", conference at UIMP
'Science: it's a women's thing', article in 'El País' newspaper
Valentina Nairi, from Cagliari University, works as intern three months in GIBI
Plenary lecture at BIOBILBAO 2017
"A full commitment to research implies certain sacrifices", Press interview
Day meeting members of the VERDI Project
Master Thesis Project. Marta Guembe
Master Thesis Project. Mercedes Angulo
Master Thesis Project. Daniel Pedraza
Day meeting of members of the VERDI Project
Bachelor's Degree Final Project. Carlos Astorga
Elena Varini, from Modena University, stays five months in GIBI
"Mesoporous materials" radio interview
Members of GIBI group participated at 7th international Colloids Conference
Prof. Vallet, 'Julio Peláez Award' to Female Pioneers in Physics, Chemistry and Mathematics
"Design of drug nanocarriers" invited conference
"ERC. Ten years after" Conference at RANF
Day meeting of members of the VERDI project
"We want to obtain artificial organs identical to those of the patient, without the need for donors" interview with Innovaspain.com
Definition of mesoporous materials in the dictionary of R.A.I.
"A nanosystem to treat three diseases: infection, cancer and osteoporosis" Red.escubre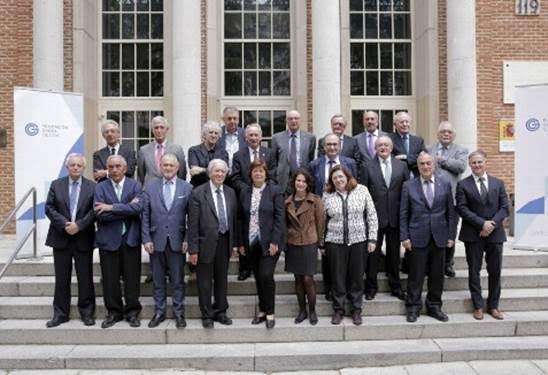 Establishment of Gadea Science Foundation
'Nanoparticles: Clinical Applications' invited conference
Prof. Vallet imparted conference at IMA
Dr. Salinas visit the Institute of Biomaterials of the University of Erlangen-Nuremberg
Dr. Salinas Keynote speaker at the 92. DKG Annual Meeting in Berlin
New Journal: "BIOMEDICAL GLASSES"
Prof. Vallet has been elected in the College of Fellows of AIMBE
Prof. Vallet imparted conference at RANF
"Polyvalent mesoporous nanosystem as drug carriers" at 5th International Conference on Multifunctional, Hybrid and Nanomaterials
One day meeting of members of the VERDI project
Day meeting of members of the VERDI project
New implants designed for treatment of bone infection and tumors
Prof. Vallet-Regí in the position 55 of the scientists working in Spanish Institutions
A conversation with four UCM female faculty members
---
---
---