USE OF CANNABINOIDS AS ANTITUMOR AGENTS
USE OF CANNABINOIDS AS ANTITUMOR AGENTS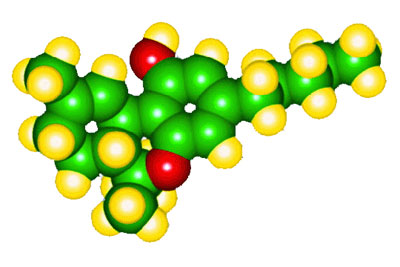 D9-Tetrahydrocannabinol, the main active component of C. Sativa.
Cannabinoids (active ingredients of Cannabis sativa and its derivatives) exert a number of well-known effects with potential therapeutic application. Our studies have revealed an additional action of these compounds: cannabinoids produce antitumor responses in preclinical (cell cultures and mice) models of cancer. They do it by inducing the selective death of tumor cells, together with antiangiogenic and antimetastatic responses. The original observations made in models of glioblastoma multiforme (a specific type of brain tumor) have been extrapolated to other types of tumors such as breast tumors, cutaneous carcinomas and melanomas, and pancreatic tumors.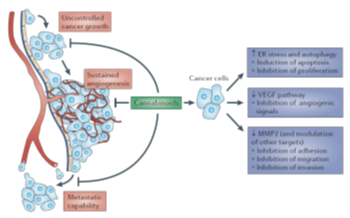 Cannabinoids block tumor progression by inhibiting cancer cell proliferation and inducing cancer cell death by apoptosis, by hampering tumor angiogenesis, and by hindering metastasis (from Velasco, Sánchez and Guzmán, Nature Reviews Cancer 2012)
Our goal is to understand the molecular mechanisms responsible for the antitumor actions of cannabinoids. To this aim, we perform studies in:
Cell cultures, to
(a) analyze the functional involvement of cannabinoid receptors;
(b) study the signaling cascades involved in such actions.
Animal models of cancer, which include:
(a) Xenograft-based models (both ectopic and orthotopic);
(b) Genetically engineered mice, that express oncogenes or inactivated tumor suppressor genes.
The safety of cannabinoid treatment is tested using imaging techniques (such as magnetic resonance imaging or IVIS), as well as hematological, biochemical and behavioral tests.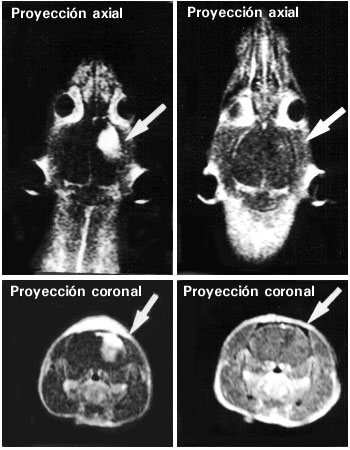 Magnetic resonance imaging in axial and coronal projections of the rat brain before (left) and after (right) delta-9-tetrahydrocannabinol treatment for 7 days. The arrow indicates the eradicated glioblastoma (From Galve-Roperh et al., Nature Medicine 2000)
The current therapies used for the treatment of patients with highly malignant tumors (surgery, radiotherapy, chemotherapy, etc.) are often ineffective or at most palliative. In preclinical models of cancer, cannabinoid chemotherapy is a simple, selective, safe and highly effective technique. In addition, cannabinoids have other clinically demonstrated therapeutic properties that can benefit oncologic patients (antiemetic, analgesic, anxiolytic, appetite stimulant).
Where has it been developed
The present studies are developed at the Department of Biochemistry and Molecular Biology of Universidad Complutense de Madrid. Our group has consolidated a line of research focusing on the mechanism of action of cannabinoids in tumor cells, with special emphasis on the transduction pathways involved in the control of the death / survival cell decision.
In addition, we are investigating the potential therapeutic use of cannabinoids in the treatment of different types of tumors (mainly brain and breast tumors).
The UCM group seeks funding for these studies and offers their expertise to develop cannabinoid therapies for the treatment of cancer.
Pharmaceutical companies interested in new antitumor compounds are being sought. The participation of these companies can range from financing basic research to conducting clinical trials.
Our research group offers the possibility of:
Studying the possible antiproliferative and apoptotic effects of experimental drugs, both in terms of mechanism of action and effects in vivo.
Providing experience and technical knowledge to try to develop clinically cannabinoid therapies for the treatment of tumors.
Training professionals in the use of these methodologies.
Contact

© Office for the Transfer of Research Results – UCM
Faculty of Medicine. Edificio Entrepabellones 7 y 8.
C/ Doctor Severo Ochoa, 7. 28040 Madrid.
comercia@ucm.es
Versión en español

English version

Manuel Guzmán Pastor: mguzman@quim.ucm.es
Guillermo Velasco Díez: gvelasco@quim.ucm.es
Cristina Sánchez García: cristina.sanchez@quim.ucm.es
Department: Biochemistry and Molecular Biology
Faculty: Chemical Sciences