FORMATION OF NANOPARTICLES AND NANOENCAPSULATES BY SUPERCRITICAL EXTRACTION OF EMULSIONS (SFEE)
FORMATION OF NANOPARTICLES AND NANOENCAPSULATES BY SUPERCRITICAL EXTRACTION OF EMULSIONS (SFEE)
The most important micro-scale micronization and encapsulation techniques are: spray drying, fluidized bed coating and evaporation at high temperature and / or reduced pressure.
These technologies present a number of drawbacks. The produced particles generally have a size too large for nano and even micro-applications; its morphology cannot be finely controlled. In addition, some of these techniques use heat to remove the solvent, which could negatively affect the compound. On the other hand, it is very difficult to eliminate it completely. Continuous operation is not possible and the processing time is large. These limitations coupled with their high cost make it difficult to implement them on an industrial scale.
For these reasons, new alternatives such as supercritical fluid extraction of emulsions (SFEE) are being sought.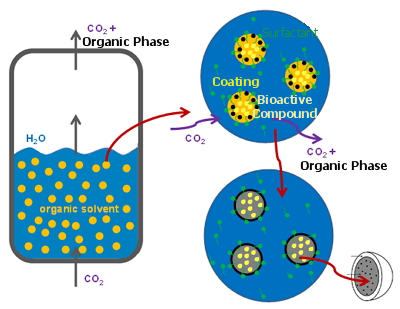 Nanoencapsulation process using ESE technology.
In this technique supercritical CO2 is used to extract the organic phase from an emulsion in water (O/W) in which the compound to be micronized is dissolved. When the solvent is removed, the particles precipitate and are suspended in water. A variation of the method is used to generate encapsulates. In the organic phase, both the active compound and the coating are dissolved. When the organic solvent is removed, the coating precipitates on top of the compound, generating a suspension of the micro- or nanocapsules in water. If the active compound is soluble in water, double emulsions (W/O/W) are used.
The technology can be applied to the micronization and encapsulation at the micro and nano scale of sensitive compounds, such as pharmaceuticals (for protection and / or controlled release), nutraceuticals, bioactive, probiotics (for incorporation into functional foods), cosmetics, pigments, explosives, semiconductor precursors, etc.
Nanotechnology is a priority technological tool in the Horizon 2020 program and in the State Plan for R&D&I given the vast market that exists.
1. Better control of particle size and shape. The particles have spherical morphology and there is no aggregation. This is due to the combination of the flexibility of particle engineering using emulsion systems, with the high efficiency and speed of the extraction with supercritical fluids.
2. High encapsulation efficiency (> 80%) and active compound / particle ratio (> 30%).
3. Moderate use of pressure (<80 bar), low temperature (<40 ° C), short processing time (<30 min); So that operating costs could be easily amortized by the added value of the product.
4. The process can be carried out continuously, with recirculation of both the organic phase and the CO2.
5. Scaling to large productions is easy since conventional extraction technology could be applied to fill columns.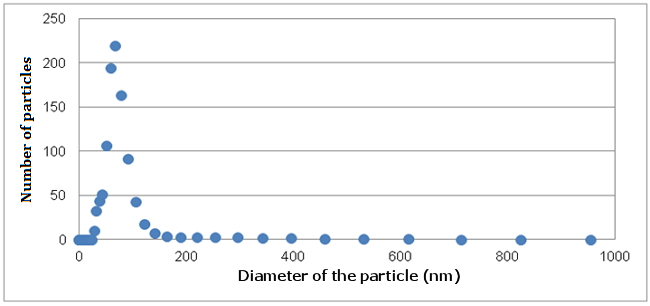 Size distribution of vitamin E nanocapsules obtained by ESE.
Where has it been developed
The technology is under investigation, although it was tested in several pharmaceutical and bioactive products. In the group of Processes in Supercritical Fluids of the Department of Chemical and Material Engineering, the nanoencapsulation of liquid compounds has been achieved.
• Supercritical CO2 extraction
• High pressure CO2 sterilization
Contact

© Office for the Transfer of Research Results – UCM
Faculty of Medicine. Edificio Entrepabellones 7 y 8.
C/ Doctor Severo Ochoa, 7. 28040 Madrid.
comercia@ucm.es
Versión en español

English version

Lourdes Calvo Garrido: lcalvo@ucm.es
Department: Chemical Engineering
Faculty: Chemical Sciences