ELECTRONIC DEVICE FOR VISUAL THERAPY
ELECTRONIC DEVICE FOR VISUAL THERAPY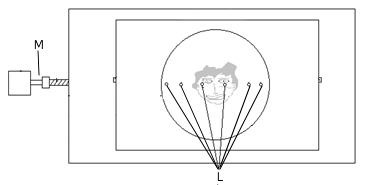 Front of the device of the invention with reflections of the user that are simultaneously seen with the LEDs (L) used as light sources that move in different positions with respect to the user thanks to the motor and the axes (M)
An electronic device is presented that improves several parameters of visual therapy, such as visual coordination, vergences (synchronized and opposite movement of both eyes), accommodation and flat fusion. All this thanks to two hollow elements, a spherical cap with a mirror adapted to it and two light sources that move thanks to two axes incorporated inside it.
Visual therapy aims to improve vision through an increase in performance and maximum visual acuity. Currently, various devices are used to perform visual therapy or to simulate different working distances and evaluate binocular or accommodative anomalies and their treatment.
This device consists of two light stimuli (LEDs) that move on a horizontal axis with respect to the user's eyes and a mirror that reflects the user's face, so that the stimuli and the reflection are in two differentiated and variable planes between themselves.
The movements of the LEDs, in combination with the user's reflex, allow variations in the movement of approach and distance between the eyes and the ability to maintain a simple image despite zooming in or out, forcing the visual parameters desired for a better vision.
• This electronic device can improve visual coordination, vergences, accommodation and flat fusion.
• Works with simultaneous stimuli in two different and variable planes.
• They can be manufactured in such a way that they are transportable.
Where has it been developed?
This invention has been developed in the Faculty of Optics and Optometry and is protected by a national invention patent since 2017. This group of inventors has generated more than 20 patents.
Contact

© Office for the Transfer of Research Results – UCM
Faculty of Medicine. Edificio Entrepabellones 7 y 8.
C/ Doctor Severo Ochoa, 7. 28040 Madrid.
comercia@ucm.es
Versión en español

English version

Ricardo Bernárdez Vilaboa: rbvoptom@ucm.es
Department: Optometry and Vision
Faculty: Optics and Optometry