DEVICE FOR THE EVALUATION OF VISUAL SKILLS IN SPORTS
DEVICE FOR THE EVALUATION OF VISUAL SKILLS IN SPORTS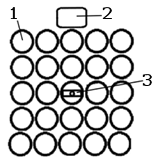 Device scheme: 1. Double switch. 2. Flat screen. 3. Camera and IR sensor.
This is a device that analyzes visual abilities with two degrees of dexterity: a coarser one and a finer one. Among the visual skills that can be assessed with this device are: ocular motility (following the eye of a moving object), visual memory, peripheral vision, reaction time, eye-hand coordination, visual anticipation, stereopsis or relief vision (distance perception).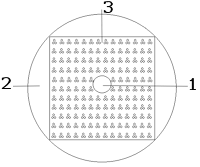 Switch scheme: 1. Small central switch. 2 Full switch. 3. Luminous LED plate.
The skills described above are abilities for which concurrence of vision and body is necessary. These skills are evaluated by controlling variables of time, space, speed etc. These abilities can be improved to reach response levels measured in ms, crucial in sport.
The device includes a set of double switches that emit visual signals. The switch consists of a smaller push button surrounded by a larger push button, this allows to distinguish between a requirement of more or less precise skills depending on the push button to (dis)activate.
The set of switches can be configured in different ways: circles, rows, columns, etc., through bars of union, which makes programmed sequences to evaluate the visual abilities. The results are displayed on a screen to check their evaluation. The device incorporates a CCD camera and an infrared device that record the movements made.
It makes it possible to analyse these highly difficult, precise and accurate abilities, characteristics necessary for sports skills, such as: dribbling in football, success with the centre of the target in sports shooting, success with the parallel in tennis or obtaining an "Eagle" in golf. Physical and visual abilities in sport depend on these basic optometric factors, combined with external elements in motion and high precision and physical preparation.
Where has it been developed?
The design, protected by a national patent with prior examination since 2018, has been developed in the Faculty of Optics and Optometry, jointly in the dependencies of the Faculty of Physical Activity and Sports Sciences of the Polytechnic University of Madrid.
The research group of Professor Ricardo Bernárdez Vilaboa has more than 12 patents with prior examination.
Contact

© Office for the Transfer of Research Results – UCM
Faculty of Medicine. Edificio Entrepabellones 7 y 8.
C/ Doctor Severo Ochoa, 7. 28040 Madrid.
comercia@ucm.es
Versión en español

English version

Ricardo Bernárdez Vilaboa: rbvoptom@ucm.es
Department: Optometry and vision
Faculty: Optics and Optometry