MULTINOT
MULTINOT
Multidimensional Annotation of English-Spanish comparable and parallel texts for linguistic and computational applications
The MULTINOT project aims at the creation of a parallel English-Spanish corpus which is balanced –in terms of register diversity and translation directions– and whose design and enrichment with multidimensional annotations focuses on quality rather than on quantity.
The project offers the scientific community a multifunctional resource which can be used by a variety of potential users and in a number of theoretical and applied contexts, such as, e.g.:
- linguists working on contrastive and corpus-based analysis
- translators in need of bilingual parallel texts in both directions
- translation trainers as a resource for computer-assisted translation
- language teachers and computational linguists developing NLP applications.
The resulting corpus –the MULTINOT corpus– is a one-million-word sentence-aligned, and multidimensionally-annotated parallel corpus for the language pair English-Spanish.
The MULTINOT corpus distinguishes itself from other parallel corpora by having a balanced composition (both in terms of registers and translation directions) and by focusing on quality rather than quantity. Thus, during the data collection phase, we made sure that the text samples were extracted from published online materials provided by publishing houses, press, government, corporate enterprises, European institutions, and other organisations under the 'fair use' agreement. Also, during data processing we also focused on corpus quality by manually correcting text samples at different processing stages such as sentence splitting, alignment and part-of-speech tagging. Furthermore, interannotator agreement has been carried out for the manual annotation phase of several higher level features, such as MODALITY, THEMATISATION, RHETORICAL STRUCTURES and PROJECTION.
The corpus currently contains the proportions of texts specified in table 1:
MacroRegister

Sub-register

Source=> Target

English

Spanish

Total

Literature

Novels

EN=>ES

24886 orig

26927 trans

51813

ES=>EN

27939 tran

26672 orig

54611

Short stories

EN=>ES

2186 orig

2088 trans

4274

ES=>EN

1175 orig

1197 trans

2372

Essays

EN=>ES

27382 orig

27235 trans

54617

ES=>EN

32517 trans

30362 orig

62879

Journalism

News reporting articles (popsci)

EN=>ES

10658 orig

9753 trans

20411

ES=>EN

24579 orig

23730 trans

48309

Administrative

Official speeches

EN=>ES

25373 orig

27112 trans

52485

ES=>EN

Proceedings of debates

EN=>ES

25620 orig

26450 trans

52070

ES=>EN

27390 orig

26320 trans

53710

External communication

Promotion/advertising brochures

EN=>ES

23695 orig

27790 trans

51485

ES=>EN

25761 orig

25367 trans

51128

Self-presentation documents

EN=>ES

ES=>EN

31188 orig

27326 trans

58514

Scientific texts

EN=>ES

42580 orig

45047 trans

87627

ES=>EN

24322 orig

23430 trans

47742

Legal procedures

EN=>ES

36688 orig

38640 trans

75328

ES=>EN

23984 orig

22185 trans

46169
Table 1: Word count distribution of different registers in MULTINOT (June 2015)
All documents are normalized, preprocessed through the LeTs preprocessing pipeline (Van de Kauter et al. 2013) and aligned. Preprocessing includes automatic and manual correction of:
Multiple POS tags and lemmatization
Sentence segmentation
Basic Document structure in TEI XML
In addition, certain subregisters include manual annotation layers of semantic, pragmatic and discourse features, as follows:
Modality values (epistemic, deontic, dynamic and volitional values and their subtypes)
Thematic selection and Progression Patterns
Projection
Discourse Markers
In order to enable corpus users to query the corpus selecting the texts that fulfill their specific needs, each sample has an accompanying metadata file including text-related and translation-related information. The whole corpus is released in XML format, and made available through a password-protected online interface to be requested from the project"s principal investigator (Dr. Julia Lavid).
Financing body: Spanish Ministry of Economy and Competitiveness (MINECO) for the period: January 2013-Dec. 2015, with an extension until 31st December 2016.
Reference: FFI2012-32201
Principal Investigator (IP): Dr. Julia Lavid López
MODALITY meanings and their realisations in English and Spanish
The MODALITY layer provides an analysis of the English original and translated texts, as well as of the Spanish original texts and their translations into Enlgish. The MODAL values which were used and their realisation features are graphically presented in Figure 1 below:
Figure 1: Screenshot of Modality Layer in MULTINOT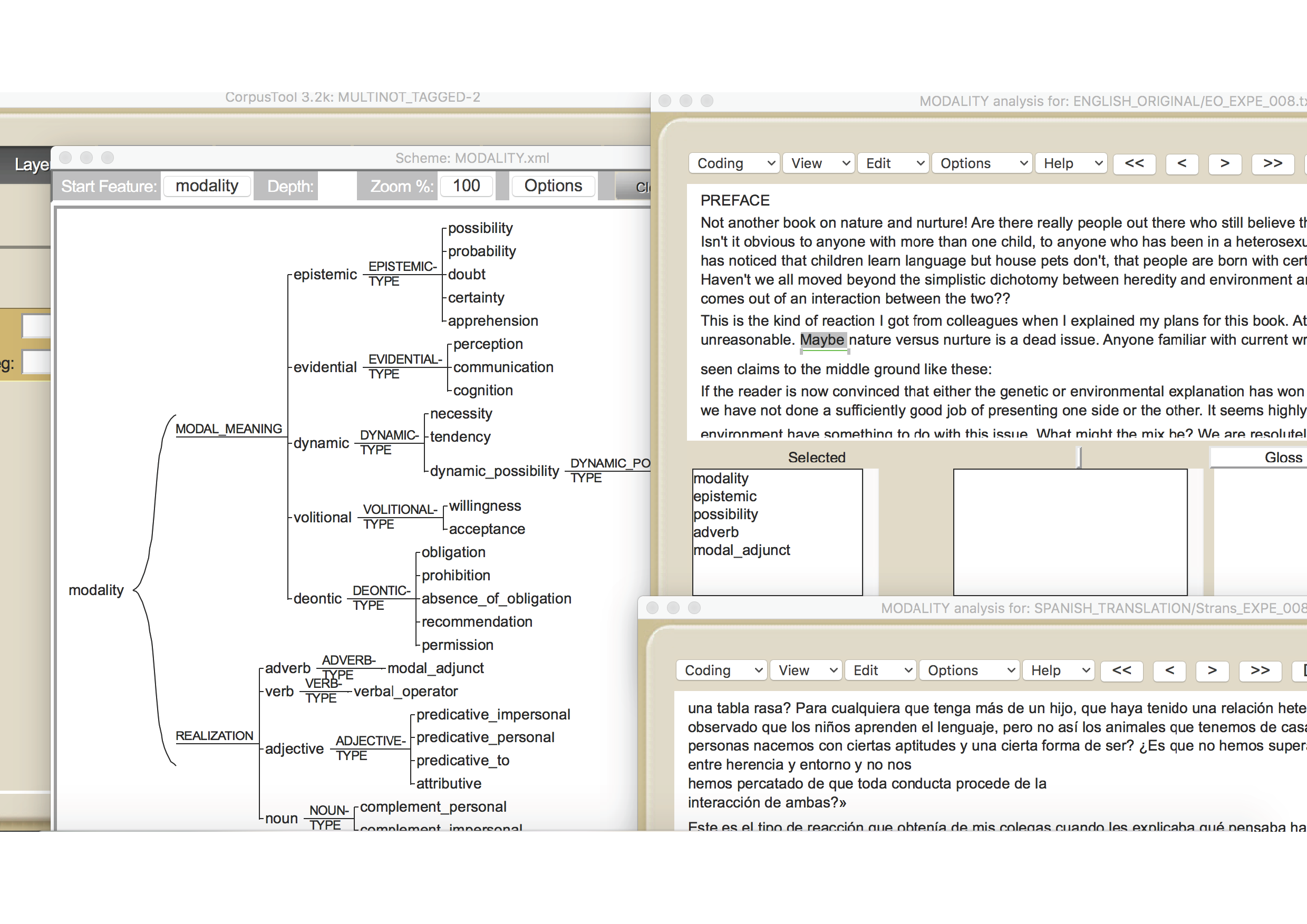 Go back to Projects