[...]
José Botella Llusiá (1912-2002)
José Botella Llusiá (1912-2002)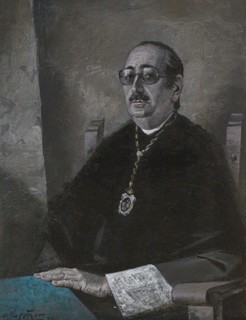 After completing his Master's degree (1934) and doctorate degree (1936) in Medicine at the University of Madrid, he accepted a faculty position as a Professor of Obstetrics and Gynecology at the University of Zaragoza in 1944, and later in Madrid in 1948.
He served as Director of the Maternity Unit of "Santa Cristina" Hospital and Director of the Central School of Midwifery in 1952, he also held the position of Director of Maternity in the "Provincial" Hospital in Madrid.
He assumed his duties as Rector of the Complutense University in 1968 and held this position until 1972.