[...]
Blas Cabrera y Felipe (1878-1945)
Blas Cabrera y Felipe (1878-1945)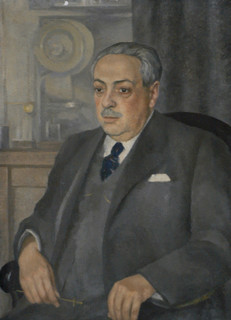 Graduated in Physical and Mathematical Sciences from the University of Madrid, he earned his doctoral degree in 1901.
In 1905, he accepted a position as Professor of Electricity and Magnetism in the same university.
As well as being active in research, he took part in the establishment of the Spanish Society of Physics and Chemistry and became a member of the Board for Advanced Studies. In addition, he managed the Physical Research Laboratory which turned into the National Institute of Physics and Chemistry in the years of the Second Republic and was built with financial support from the Rockefeller Foundation
He served as Rector of the Central University of Madrid from 1930 to 1931 and as an active promoter of the international summer courses in Santander (1933).
Expelled from the Senate by the Franco"s government, he went into exile in Mexico where he joined the "Universidad Nacional Autónoma de Mexico".
Blas Cabrera y Felipe"s Literary works in UCM Library