USE OF CLEAN TECHNOLOGIES IN THE SYNTHESIS OF FINE CHEMICAL PRODUCTS
USE OF CLEAN TECHNOLOGIES IN THE SYNTHESIS OF FINE CHEMICAL PRODUCTS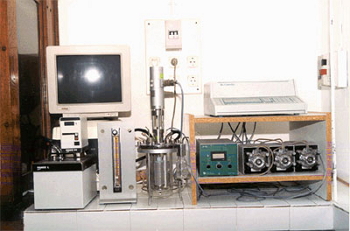 Equipment used in developing the technology.
It has developed the necessary technology for the selective synthesis, optimization and change of scale for the production of products considered of Fine Chemical.
This technology addresses the use of commercial enzyme systems to replace the acid catalysts in the synthesis of esters, ethers, amides, products that are usually used in the cosmetic, pharmaceutical, food and flavors industries among others.
One of the key points of this technology is the use of commercial biocatalysts, immobilized lipases. Compared to the old processes, catalyzed by mineral acids, ion exchange resins, zeolites or strong acids, this technology allows both environmental improvements and a reduction in operating costs and process equipment.
Products developed using this technology are the following:
1. Esters of high molecular weight, for use in:
Food: Jojoba oil, spermaceti, DATEM, monoglycerides of oleic, stearic.
Antioxidants ascorbyl oleate and ascorbyl palmitate.
Cosmetics: Jojoba oil, monoglycerides.
Pharmacy: Carnauba Wax, Isopropyl myristate.
2. Esters of average molecular weight, for use in:
Cosmetics: n-octyl octanoate, myristyl myristate, oleyl 2-ethylhexanoate, myristate Isopropyl.
3. Esters of low molecular weight, for use in:
Cosmetics: Isopropyl palmitate, isopropyl oleate, methyl oleate, ethyl oleate.
Surfactants: 4-dihidroxibutanoato oleyl.
4. a-bAminohydroxyesters, for use in:
Pharmacy: drug synthesis intermediates.
5. Resolution of racemic mixtures of optical isomers, for application in the field of pharmacology.
The advantages of the enzymatic process against classical processes that employ chemical catalysts, are:
Technologically clean and safe:
Do not use strong mineral acids.
Wastewater is neutral, the post reaction treatment is minimal and avoiding corrosion of process equipment.
The operating conditions are moderate, resulting in energy savings.
The reactor and auxiliary equipments do not suffer corrosion.
High Selectivity and production:
No byproducts are obtained.
99.9% conversions are achieved in lower reaction times.
Where has it been developed
The Integrated Design, Optimization and Escalation Process Group of the Complutense University of Madrid developed this technology.
Two of the developed processes have been implemented industrially. Within the framework of this technology, it has been developed three European projects and has been registered five patents.
The working group has facilities to study the Escalation Process, we have three Pilot Plants between one and five liters with their consequential temperature controls, agitation, distillation and pressure, in which can be studied and developed any product considered of Fine Chemicals.
We can train operators of pilot plant and provide technical assistance if required, as well as perform Technical and Economic Feasibility studies for a product or product ranges.
Contact

© Office for the Transfer of Research Results – UCM
Faculty of Medicine. Edificio Entrepabellones 7 y 8.
C/ Doctor Severo Ochoa, 7. 28040 Madrid.
comercia@ucm.es
Versión en español

English version

José Aracil Mira: jam1@quim.ucm.es
Department: Chemical Engineering
Faculty: Chemical Sciences