TECHNOLOGY FOR PURIFICATION AND/OR SEPARATION OF BIOPRODUCTS (DOWNSTREAM PROCESSING)
TECHNOLOGY FOR PURIFICATION AND/OR SEPARATION OF BIOPRODUCTS (DOWNSTREAM PROCESSING)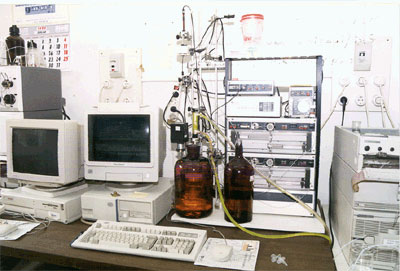 Equipment used in developing the technology.
The proposed technology consists of using Adsorption Operation based on the use of selective adsorbents to purify biomolecules (antibiotics, peptides, amino acids and proteins) or to separate and purify molecules with a high structural analogy such as isozymes and removing highly polluting chemical species.
This technology allows a quickly and reliably discrimination of different adsorbents, particle diameters, pH, ionic strength, temperature, etc.; as well as obtaining design parameters (diffusivity and mass transfer constant) for scaling the process.
The equipment is operated by a programmable and automatic system, which controls the flowrate of adsorbate, temperature, continuous sampling, etc.
Using this technique we have purified the following compounds:
Antibiotics: cephalosporin C from deacetyl-cephalosporin C.
Peptides: aspartame from aspartic acid and phenylalanine.
Proteins: alpha-amylase Glucoamylase.
Amino acids
They have also been removed phenols, o-cresol, p-cresol and m- cresol from contaminated water.
This equipment has been successfully tested in European and National R+D Projects. In addition, there have been two patents.
The main advantage of this procedure is the quickness for the discrimination of the design parameters in the purification operation: temperature, particle diameter, adsorbent, ionic strength, pH, flow... Subsequently, the calculation of the thermodynamic and kinetic parameters allows the scale-up of the purification process.
Where has it been developed
This purification equipment has been developed in the Chemical and Biochemical Processes Laboratories, integrated in the Chemical Engineering Department of the Chemical Science Faculty at the Complutense University of Madrid.
The research team, who has developed this purification process, has an extensive scientific expertise (scientific publications) and technical expertise (patents and agreements with industries).
This technique has been applied to the elimination of highly toxic contaminants of waste water (pesticides, fungicides, phenols, cresols ...) and can be applied to selectively remove any undesirable product. The research team has pilot plants of fixed bed to treat and, if necessary, concentrate, purify and/or remove streams of 10-3 to 20 g/l.
As we have discussed above, the technology is so versatile that it can be used to study the feasibility of specific problems. Furthermore, it has sufficient technical capacity and teaching skills for training technicians.
Contact

© Office for the Transfer of Research Results – UCM
Faculty of Medicine. Edificio Entrepabellones 7 y 8.
C/ Doctor Severo Ochoa, 7. 28040 Madrid.
comercia@ucm.es
Versión en español

English version

José Aracil Mira: jam1@quim.ucm.es
Department: Chemical Engineering
Faculty: Chemical Sciences