DIVERGENT MICE LINES FOR HOMOGENEITY AND ROBUSTNESS
DIVERGENT MICE LINES FOR HOMOGENEITY AND ROBUSTNESS
The MOSEVAR research group has established two mouse lines with high and low homogeneity of birth weight, so that they have an opposite robustness in each line when conducting an investigation, protocol, technique or experiment.
The selection carried out resulted in a heterogeneous line and another line of homogeneous and more robust mice in both normal and stressful conditions.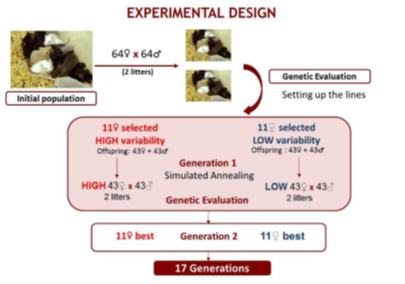 Experimental Design
When it was developed a novel divergently selected experiment to modify, genetically and using complex statistic models, the birth weight environmental variability, it was resulted that animals from low variability line were less susceptible to environmental challenges having bigger survival, litter size and reproductive longevity. Similarly, by selection, another heterogeneous and opposite line was obtained. Moreover, it has been proved that selecting for birth weight homogeneity provided more robust animals.
The genetic selection to decrease environmental variability is one of main targets of selection and fits with EU research objectives because it is directly related with animal welfare and feed efficiency. Also, the animal welfare has become important in recent years in research and livestock production. Nowadays, it was regulated by European (2010/63/UE) and Spanish (RD 53/2013) regulations.
It facilitates to the scientific community the research and the application of any treatment, since the population of application could be very sensitive or very robust, depending on the line.
Mice are an excellent animal model in research due to its breeding, maintenance and handling advantages. Within the field of animal production is the ideal model for rabbit and pig studies, as well as biomedical research.
The technology developed is in accordance with the objectives of the Horizon 2020 European Program.
Where has it been developed
The MOSEVAR research group belongs to the Veterinary Faculty of the Complutense University of Madrid (UCM). The main objective of this research group is to apply conservation and breeding tools to improve the genetic variability and the genetic response for traits of interest in an animal population.
Particularly, the technique presented here has been focussing in: canalisation experiment in mice which objective is studying the genetic selection response of environmental variability. With this purpose it has been used specialized methodologies like a divergent selection and genetic models for canalization.
The team has the collaboration of researchers specialized in different aspects and animals: alpaca, Arab horse and dairy cattle breeding and developing genetic variability conservation tools.
Contact

© Office for the Transfer of Research Results – UCM
Faculty of Medicine. Edificio Entrepabellones 7 y 8.
C/ Doctor Severo Ochoa, 7. 28040 Madrid.
comercia@ucm.es
Versión en español

English version

Nora Formoso-Rafferty Castilla: noraform@ucm.es
Isabel Cervantes Navarro: icervantes@vet.ucm.es
Juan Pablo Gutiérrez García: gutgar@vet.ucm.es
Department: Animal Production
Faculty: Veterinary