CONDITIONING AND VALORIZATION OF STANDARD GLYCERIN
CONDITIONING AND VALORIZATION OF STANDARD GLYCERIN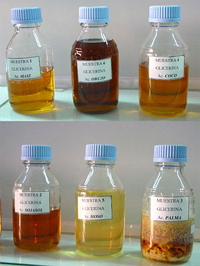 Glycerin from various vegetable oils: corn, pomace, coconut, sojasol, high oleic sunflower and palm.
The Design, Optimization and Escalation Process Group of the Complutense University of Madrid has developed the methodology needed for the conditioning of glycerin, obtained from biodiesel production, and its subsequent use as polyalcohol to obtain products of medium-tonnage productos, fatty acid esters and ethers.

The developed products have been:
1. Mono- and di-esters of fatty acids and glycerin with applications in:
Cosmetics.
Feed additives.
Nonionic surfactants.
2. Esters of glycerin and alcohols of different molecular weight with applications in:
3. Energy valuation of technical quality glycerin that can be conditioned for a later use as an energy source in combustion.
The developed technology allows using glycerin from the biodiesel production process, also obtaining fatty acids and salts that can be used as fertilizer.
Those fatty acids obtained in the conditioning step of glycerin can be used in esterification reactions to form mono and diglycerides, reducing production costs of these products.
The technology employs commercial enzyme systems that help decrease the damage to machinery and treatment of acid products in the waste water that are generated by using traditional acid catalysts.
One of the key points of this methodology is that it can be used glycerin obtained in biodiesel production plants, of 80 to 90% quality. In these processes it can be used immobilized enzymes as catalysts or classic catalysts.
1. Process technologically safe.
2. High selectivity and production
Where has it been developed
The technology was developed by the Design, Optimization and Escalation Process Group of the Complutense University of Madrid.
The working group has facilities to study the Escalation Process, we have three Pilot Plants between one and five liters with their consequential temperature controls, agitation, distillation and pressure, in which can be studied and developed any product considered of Fine Chemicals.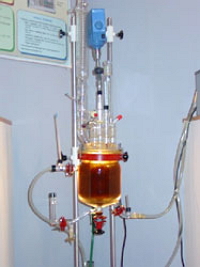 Laboratory reactor for the production of biodiesel.
The technology addresses the use of catalysts to be employed in the synthesis of products which are usually used in the cosmetic, pharmaceutical, food, flavor, etc.
Two of the developed processes have already been implemented industrially. The technology development is completed and for industrial application in a particular case it is only necessary a study to determine the optimum conditions and scaled to that case.
We can train operators of pilot plant and provide technical assistance if required. Technical and economic feasibility studies can be performed for a product or product ranges.
Contact

© Office for the Transfer of Research Results – UCM
Faculty of Medicine. Edificio Entrepabellones 7 y 8.
C/ Doctor Severo Ochoa, 7. 28040 Madrid.
comercia@ucm.es
Versión en español

English version

José Aracil Mira: jam1@quim.ucm.es
Department: Chemical Engineering
Faculty: Chemical Sciences