CHITOSANS: SYNERGY MAKING BIOPOLYMERS. FUNCTIONALITY AND ADDED VALUE
CHITOSANS: SYNERGY MAKING BIOPOLYMERS. FUNCTIONALITY AND ADDED VALUE
Research in the chitina/chitosans system Research Group has been working for years with chemical-physicalcharacterization of this family of biopolymers (Chitosans) and especially with its applications to pharmacy, cosmetics and food. Waste of food industry is the raw material from which high value ingredients are designed and created. The eventual products become very competitive as they own such properties as anti-microbial, anti-fat, emulsifier or moisturizing.
We have designed and developed products such as:
Systems of drug release control through a specific Chitosan (QF1).
Low molecular weight Chitosan (COS) with anti-microbial, anti- inflammatory and anti-oxidant properties.
Functional ingredients specific for Food industry (QAL2) with anti-oxidant and anti- cholesterol properties added to β-glucan from brewer´s yeast (Saccharomices cerevisiae) or thistle (Cynara cardunculus).
Emulsifiers, stabilizers and creams for skin cosmetics, patisserie and ice-creams.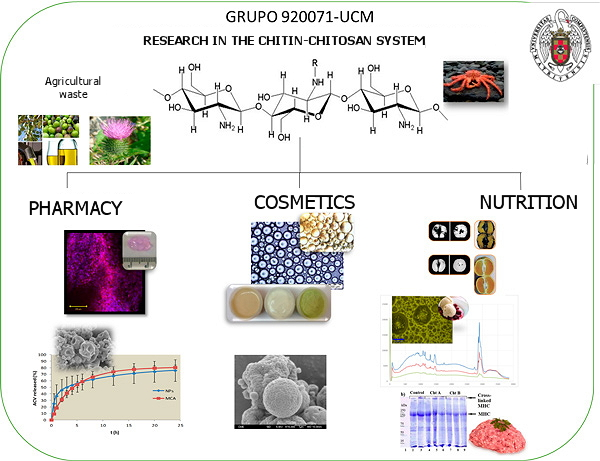 Scheme of technological offer of the group Investigations in the chitin chitosan system.
After an initialelection and physical-chemicalcharacterization of the specific Chitosan, some bioactive compounds are encapsulated to allow its conservation and stability during storage and its controlled release in time. Techniques of coacervation, ionotropic gelatification and moisturizing-atomization are used when necessary.
In surgery, Chitosan is very useful to repair damaged tissues through bioactive hydro-gels or creams. It is also very efficient to cure wounds, burns and ulcers as it facilitates scar formation.
In Food, its anti-microbial, anti-oxidant character and its filminess makes it a natural preservative against pathogens. It contributes also to the stability of meat as it slows down oxidative processes.
Chitosan QHE4 as an additive makes more homogeneous mixtures (uniform dispersion), it eases beating and gives a higher viscosity to emulsions.
Due to its exceptional biological properties, able to reduce cholesterol in blood and to catch fat, it becomes a functional ingredient besides a technological one.
As a drug, it reacheseasier the aimed target.
In Cosmetics, it improves some properties of the product.
In Food, it improves and enriches some functional properties as anti-microbial, anti- oxidant, emulsifier and organoleptic.
Where has it been developed
At the Chitin/Chitosan system Research Group number 92007, in the Chemical Physics Department, at the Faculty of Pharmacy, UCM. More details are included in the C.V. of its members.
We offer:
Adapt our technologies to customer´s needs.
Make studies of technical feasibility for every specific application.
Possible technical assistance after buying.
Contact

© Office for the Transfer of Research Results – UCM
Faculty of Medicine. Edificio Entrepabellones 7 y 8.
C/ Doctor Severo Ochoa, 7. 28040 Madrid.
comercia@ucm.es
Versión en español

English version

Ángeles Heras Caballero: aheras@farm.ucm.es
Department: Physics Chemistry II
Faculty: Pharmacy.
Institute of Biofunctional Studies.