Rector
Rector
The Rector is the main academic authority of the University: he officially represents, governs and manages the institution, carrying out the course of action approved by the corresponding governing bodies and executing their agreements.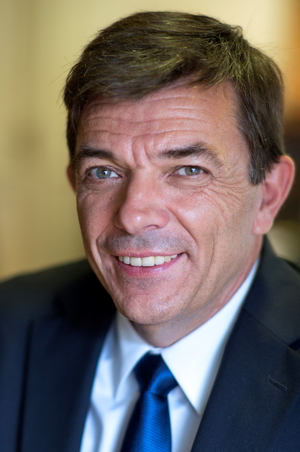 Rector
Avenida de Séneca, 2. 28040 Madrid

91 394 4099
91 394 3400
Personal Assistants
María Jesús Sastre Arranz
María José Gómez Palomo
Cristina Salcedo Mc Crory
María Azucena Sastre Arranz
CURRICULUM VITAE
Carlos Andradas was born in Reus (Tarragona) in 1956. He has been a tenured lecturer of algebra since 1997. He has authored over 40 papers in leading journals in the field of Real Algebraic Geometry, most recently in 2014, as well as a research report published by the American Mathematical Society.
In addition, Andradas edited the book "Constructible Sets in Real Geometry". Since 1983, he has continually taken part in research projects funded by the National Research Plans as a member of the Algebraic and Real Analytic Geometric research group of the Complutense University. He has acted as a national coordinator of two European projects, and has also been a member of several Integrated Hispanic-German and Spanish-Italian Actions, acting as a principal investigator in one of them.
He was a visiting professor at the University of California-Berkeley, Stanford, and Harvard, and a visiting research fellow at the Universities of Rennes, Pisa, Dortmund and Münster, and at the Mathematical Sciences Research Institute (MSRI) in Berkeley.
Dr. Andradas has extensive experience in the field of university management. At the Complutense University he has held the positions of Vice-Rectro for Research, Vice-Rector for Academic Policy, and Dean of the Faculty of Mathematics, where he also served as Vice-Dean of Research and Director of the Department of Algebra.
Dr. Andradas' service includes appointments as Coordinator of the Campus Moncloa project, which was named International Campus of Excellence in 2009; President of the Royal Spanish Mathematical Society (2000-2006); President of the Confederation of Spanish Scientific Societies (COSCE) (June 2011-March 2015); and member of the Advisory Council for Science, Technology and Innovation of the Ministry of Economy and Competitiveness (since November 2012).
Dr. Andradas is a strong advocate for science and has written two children's books on Mathematics, newspaper articles and collaborated on radio broadcasts.
He was elected Rector of the Complutense University of Madrid on 13 May 2015.