MAUI / UTRECHT
MAUI / UTRECHT
MAUI/UTRECHT
In 1993-94, The European Union signed an agreement with The U.S. Fund for the Improvement of Postsecondary Education (FIPSE). The purpose of that programme was to promote a student-centered, transatlantic dimension to higher education to exchange American and European students. The Complutense University took part since the beginning in its implementation together with a consortium of American Mid-West Universities made up of the following members:
Baylor University
University of Florida
Iowa State University
Kansas State University
University of Kansas
University of Missouri-Columbia
University of Missouri-Rolla
University of Missouri-St. Louis
University of Nebraska at Kearney
University of Nebraska-Lincoln
University of Nebraska-Omaha
University of Oklahoma
Oklahoma State University
Purdue University
Southern Illinois University at Carbondale
University of Texas at Austin
Texas Tech University
The collaboration focused on a group of European partners, members of the Utrecht Network. Finally, they succeed in overcoming the difficulties caused by the huge gap between the American and European university systems.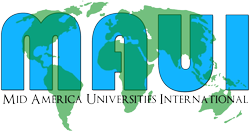 The MAUI network was formed as a consortium in 1975 and existed under various names until it became MAUI in 1995 (Mid-American Universities International).
The current membership of MAUI consists of:
MISSOURI-COLUMBIA
BAYLOR
KANSAS STATE
OKLAHOMA STATE
SOUTHERN ILLINOIS AT CARBONDALE
TEXAS TECH
KANSAS
MISSOURI KANSAS
MISSOURI-ROLLA
MISSOURI-ST. LOUIS
NEBRASKA-KEARNEY
NEBRASKA--LINCOLN
NEBRASKA-OMAHA
OKLAHOMA.
Now, there is a direct collaboration between universities on both sides of the Atlantic. Along with The Utrech Network, MAUI promotes overseas educational opportunities for students and facilitates the establishment of agreements which enable students to study in other universities.