[...]
Vice-Rector for Information Technologies
Vice-Rector for Information Technologies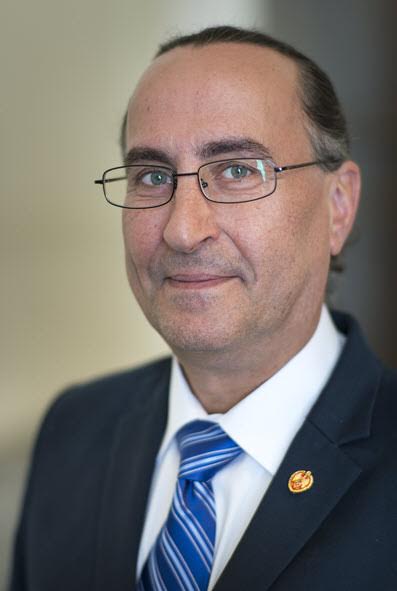 Vicerrector de Tecnologías de la Información
Avenida Séneca, 2. 6ª planta. 28040 Madrid

91 394 7319 / 91 394 7320
91 394 3466
ROLE
Leading the New Technologies Advisory Board
Creation, maintenance and management of the Complutense University institutional website, promoting disclosure policies both within and outside the university through this means.
Leading the IT policy, developing and improving the IT and communication services at the University.
Consolidation, management and monitoring of the Virtual Campus.
Planning, defining and managing the hardware, software and applications necessary for adequate teaching, research and administration at the University.
Planning and management of the data network at the University.
Definition and management of the resources that facilitate the implementation of the electronic administration.
Any other responsibilities of the Rector that relate to this Vice-Rector department.
The Institutional Intelligence Centre reports to the Vice-Rector of Information Technologies.
CURRICULUM VITAE
Luis Hernández Yáñez is a tenured professor in the Department of Software Engineering and Artificial Intelligence in the Faculty of Computer Science and Engineering. He served as Director of the department from 2006 to 2014. Among other academic roles, he has been member of the Governing Council for two years and he has served on the Academic Senate since 2010.
Hernández became professor of computer programming and web applications in 1987 and was recognised for excellence in teaching in English at undergraduate level by the "Docentia programme" (teaching performance assessment programme). He has also given numerous seminars as Coordinator of the Virtual Campus in the Faculty of Computer Science and Engineering. He has also been Director of a computer training programme that fosters online IT training courses for students.
Professor Hernández's research interests mainly focus on the application of artificial intelligence techniques in programming training. He has participated in various research projects in this field, resulting in several publications. In addition, he has taken part in teaching innovation projects that focus on the use of computers in programming training, and that help students in the Faculty of Language Studies to acquire computer skills.