Syria in Perspective From externally aggravated crisis to national reconstruction
Syria in Perspective From externally aggravated crisis to national reconstruction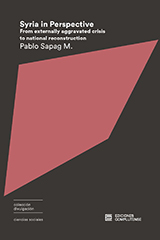 Autor: Pablo Sapag M.
Año: 2020
Páginas: 315 pp.
Formato: 13,5 x 21 cm
ISBN: 978-84-669-3707-8
Precio: 15 euros
Materia: Historia

Resumen. This book is about the Syrian crisis, both its internal causes and the part played by regional and global powers. At the heart of this analysis is a key element of Syrian society: its ingrained interconfessional character deriving from the historical presence on its soil of various religious faiths. Powerful minorities have, however, repeatedly applied political and military pressure to force the state to abandon its non-religious and non-discriminatory character. The author's review of scholarly texts is combined with research in Syria and other countries. He has conducted interviews with religious leaders, NGO personnel, combatants, displaced people and other victims. Among those interviewed is the Syrian President, Bashar al-Assad, who offers his perspective on the crisis and on the country's past and future.
---
Index
PREFACE
1. INTRODUCTION
2. SYRIA: AN HISTORICAL AND POLITICAL OVERVIEW
2.1. The origins of a multi-religious society
2.2. Syria under the Ottoman and French empires
2.3. Independence and the creation of Israel
2.4. Al Ba'ath, hegemonic, but not the only one party, and other peculiarities of the Syrian political system
3. THE EARLY STAGES OF THE CRISIS: INTERNAL AND EXTERNAL FACTORS
3.1. Immediate causes: drought, economic and political problems
3.2. Remote causes: the Muslim Brotherhood and its early challenges to a non-religious state and a multi-religious Syrian society
4. REGIONAL AND GLOBAL IMPACTS ON THE SYRIAN MOSAIC
4.1. Regional powers
4.1.1. Saudi Arabia: state interests, petro-diplomacy and Wahhabism
4.1.2. Qatar: from soft to hard power
4.1.3. Turkey: from "zero problems with neighbours" to a new Ottomanism and the threat of the Kurds
4.1.4. Iran: Al-muqawama as political principle and strategic aim
4.2. Global and other UNSC powers
4.2.1. US: furthering its ends through outsourcing
4.2.2. France: striving to vindicate an imperial past
4.2.3. The EU: refugees at the gate and terrorists within
4.2.4. Russia: an old alliance – with extra support from China within the UNSC
4.3. Other Players
4.3.1. Iraq: the heart of the "axis of resistance"
4.3.2. Lebanon: a love-hate relationship
4.3.3. Algeria: parallel histories and a lifeline connection
4.3.4. Spain: the decline of an historic relationship
4.3.5. Latin America: Al Mahjar and the Estrada Doctrine
5. PROPAGANDA AND MEDIA IN THE SYRIAN CRISIS
5.1. Black agitprop: initial successes
5.2. State propaganda: the army as defender of a multi-religious Syria
6. THE MILITARY DIMENSION OF THE SYRIAN CRISIS
6.1. The regular army versus katiba irregulars
6.2. The army learns its lesson: Qusayr and Hezbollah
6.3. Maalula, Eastern Aleppo and Eastern Ghouta
6.4. The National Defence and other allies of the army
6.5. Local and global agendas: Jabhat al-Nusra, ISIS and other jihadist groups
7. FROM THE MILITARY TO THE POLITICAL DIMENSION: THE NATIONAL RECONCILIATION PROCESS
7.1. Cultural singularity and the role of non-state mediators
7.2. Astana and Geneva: two different routes to peace
8. SYRIA AFTER THE CRISIS: PHYSICAL RECONSTRUCTION AND POSSIBLE SOLUTIONS TO A CHRONIC PROBLEM
REFERENCES
---
Pablo Sapag M. has worked as a journalist and war correspondent and is now a professor at Complutense University of Madrid. He has published books and articles on the Syrian crisis, the media, propaganda and war and is a contributor to the Sage Encyclopedia of Wa. He has lectured in British, European and Latin American universities and regularly contributes to international media.