[...]
Resistance and practices of rebellion at the age of Reformations (16th-18th centuries)
Resistance and practices of rebellion at the age of Reformations (16th-18th centuries)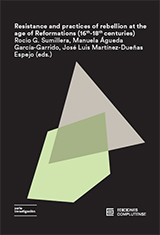 Editores:Rocío G. Sumillera, Manuela Águeda García-Garrido, José Luis Martínez-Dueñas
Espejo
Año: 2019
Páginas: 217pp.
Formato: 17 x 24 cm
ISBN:978-84-669-3626-2
Precio: 22 euros
Materia: Linguistica, Historia y Sociología
Previsualización de las primera páginas
Resumen. The chapters in this volume examine various understandings of theories of political resistance and obedience on the part of myriad authors, Catholic as well as Protestant, from the sixteenth to the eighteenth centuries. They consider how the Reformation spurred reflections on the concept of resistance, pondering over the circumstances that would call for resistance and that would sanction it, and the agents who could legitimately initiate and manage the deposition of political, religious and royal authorities. From sixteenth-century Spanish readings of the Reformation, to different episodes of active resistance through France, Switzerland, Austria and Germany, to the experience of religious exiles in the English colonies in North America, this volume provides an illustrative sample of case studies on, on the one hand, processes of construction of the rhetoric of resistance, and, on the other, instances of actual uprisings.
---
Índice

Introduction
MANUELA ÁGUEDA GARCÍA-GARRIDO, ROCÍO G. SUMILLERA, JOSÉ LUIS MARTÍNEZ-DUEÑAS ESPEJO
CATHOLIC ACCOUNTS: PROTESTANTISM AS REBELLION
Lutheranism as rebellion and rebellion as heresy in sixteenth-century Spain
ROCÍO G. SUMILLERA
Comunidades de Castille et rébellion protestante dans l'oeuvre du franciscain Luis de Maluenda
FABRICE QUERO
«Ces malheureux hérétiques et rebelles»: enjeux et stratégies des lectures royales de la conjuration d'Amboise
SOPHIE TEJEDOR
CONSTRUCTING THE LANGUAGE OF(AND A LITERATURE FOR) REBELLION
The adaptation of the Exodus-Narrative during the German Peasants' War
BENJAMIN HEIDENREICH
Rébellion hérétique et dramaturgie du martyre: La tragédie du sac de Cabrières
LOUISE FRAPPIER
CHRONICLES OF THE REFORMATION
Nicolas Volcyr de Sérrouville et sa chronique du soulèvement des paysans d'Alsace (1525)
GENEVIÈVE GROSS
Les soulèvements huguenots des années 1610-1620: une relecture des Mémoires du duc de Rohan
ADRIEN ARACIL
REBELLION AND POLITICAL PRACTICE
Rébellion en république. Le débat autour de la seconde guerre de Villmergen en Suisse
CHRISTIAN MÜHLING
«Acting as if in a Republic Already». Carinthian- Underground-Protestants Rehearsing the Uprising
STEPHAN STEINER
REBELLION ACROSS THE POND: THE AMERICAN EXPERIENCE
Changer de contrée, changer de roi. Le rêve anglican du réfugié huguenot en Amérique
BERTRAND VAN RUYMBEKE
Ideological controversies in New England Puritanism at the turn of the eighteenth century
ELENA LIOZNOVA
CONCLUSIÓN
Reformas en conflicto: ¿una defensa de la libertad en la Edad Moderna?
MANUELA ÁGUEDA GARCÍA-GARRIDO
EPILOGUE
Resistance and practices of rebellion. Current historiographical trends
ANDREAS WÜRGLER
---
Rocío G. Sumillera es Profesora Contratada Doctora en el Departamento de Filologías Inglesa y Alemana de la Universidad de Granada, ha editado The Examination of Mens Wits (1594) (MHRA, 2014), y co-editado El primer toque de la trompeta contra el monstruoso gobierno de las mujeres. Tratado contra María Tudor y otras reinas de la edad moderna (Tirant lo Blanch, 2016).
Manuela Águeda García Garrido, Doctora por la Universidad de la Sorbona, es Maître de conférences en la Universidad de Caen-Normandía. Su investigación se centra en la relación entre predicación y sociedad en la España del XVII. Ha coeditado, entre otros, el volumen Paradigmes rebelles. Pratiques et cultures de la désobéissance à l'époque moderne (Peter Lang, 2018).
José Luis Martínez-Dueñas Espejo es Catedrático de Filología Inglesa en la Universidad de Granada, y Presidente de la Academia de Buenas Letras de Granada. Es autor de libros como La conquista de Granada por los españoles de John Dryden (2010) y Antigüedad y tradición en las letras inglesas (2018).