Boletín 46
Boletín 46
| | | |
| --- | --- | --- |
| | | |

1) A Message from the IMI Director

It is a pleasure to introduce you to a new collaborator, author of the comic strip that you may see below in "La viñeta matemática" section.
Christopher J. Burke has read Computational Mathematics at Brooklyn College and Educational Technology at NYIT. He is a high school Maths teacher in Brooklyn, NY. In 2007, he created the webcomic (x, why?). Some of his comics have appeared in the textbook "Logic As a Tool", published by the University of Stockholm. He also writes fantasy and science fiction with his work appearing in Daily Science Fiction. A collection of his stories was published in the anthology "In A Flash 2020" from eSpec Books.
I hope you enjoy his comic strips.
Thanks a lot Christopher!
Angel Manuel Ramos del Olmo
2) Noticias IMI
25 de abril de 2022. La Comisión Ejecutiva del IMI ha aprobado la convocatoria de cofinanciación de actividades del IMI correspondiente a 2022. Cualquier miembro del IMI puede solicitar ayuda para cofinanciar actividades, de acuerdo con las bases de la convocatoria. El plazo finaliza el 12 de septiembre de 2022 y se irán haciendo resoluciones de concesión cada mes.
27 de abril de 2022. La UCM ya es miembro de la Plataforma Española de Tecnologías de Modelización, Simulación y Optimización en un Entorno Digital (PET MSO-ED), tras ser aprobada la solicitud de adhesión impulsada desde el IMI, en la reunión del Comité Gestor de
PET MSO-ED
celebrada el pasado día 21 de abril de 2022.
3

)

Eventos del 3 al 6 de mayo de 2022
Curso de Doctorado del IMI-DSC Programa de doctorado IMEIO
Titulo: Estudio y aplicación de la teoría de valores extremos univariante/Study and application of the univariate extreme value theory
Conferenciante: Fátima Palacios (Universidad de Sevilla)
Día: 3 y 5 de Mayo de 2022
Hora: 15:00 - 17:30h
Place: Sala de cursos IMI-DSC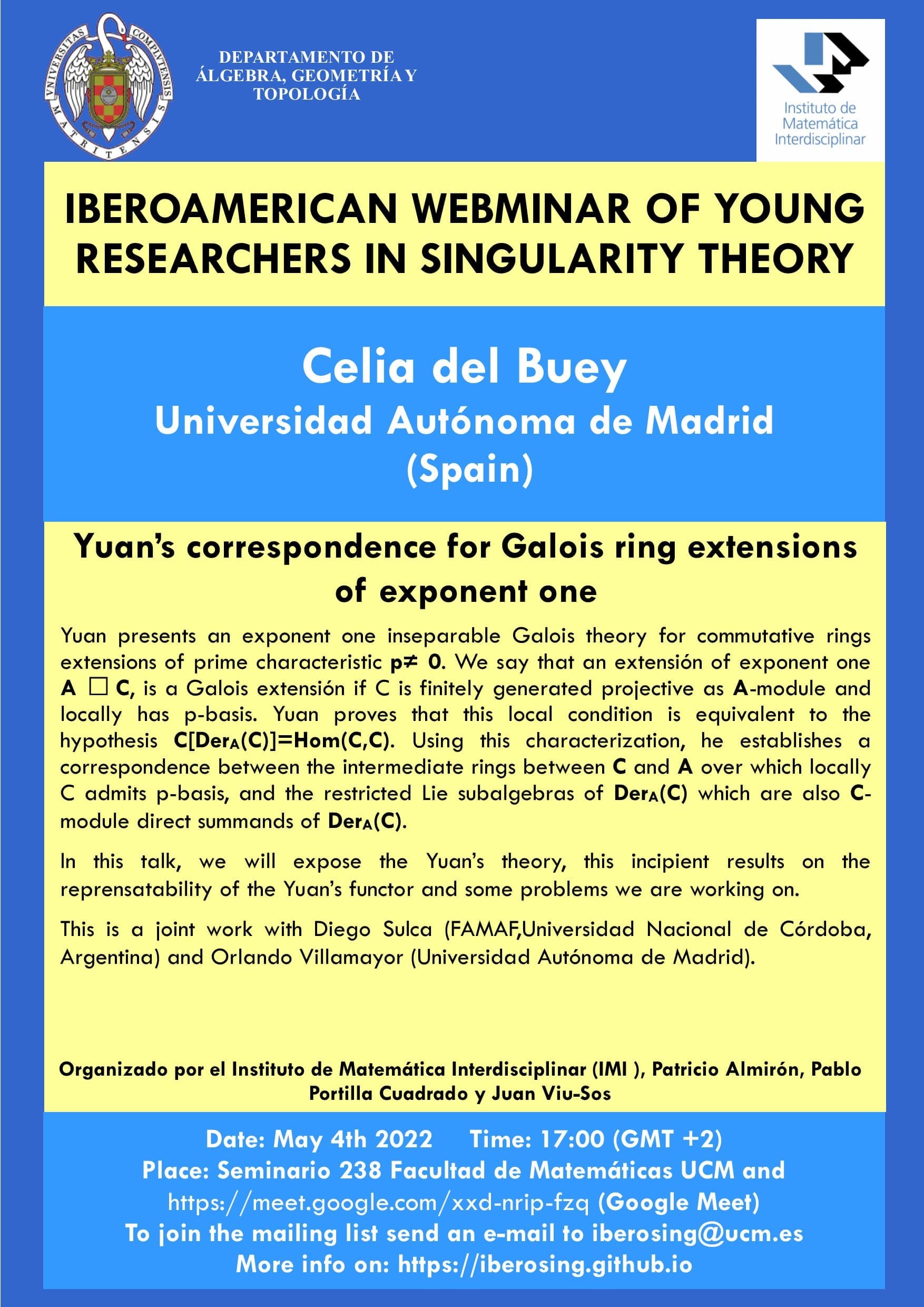 Iberoamerican Webminar of young researchers in singularity theory
Title: Yans's correspondence for Galios ring extensions of exponent one
Speaker: Celia del Buey (Universidad Autónoma de Madrid, Spain)
Days: May 4th, 2022
Hour: 17:00h (GMT+2)
Place: Seminario 238 Facultad de Matemáticas UCM and Google Meet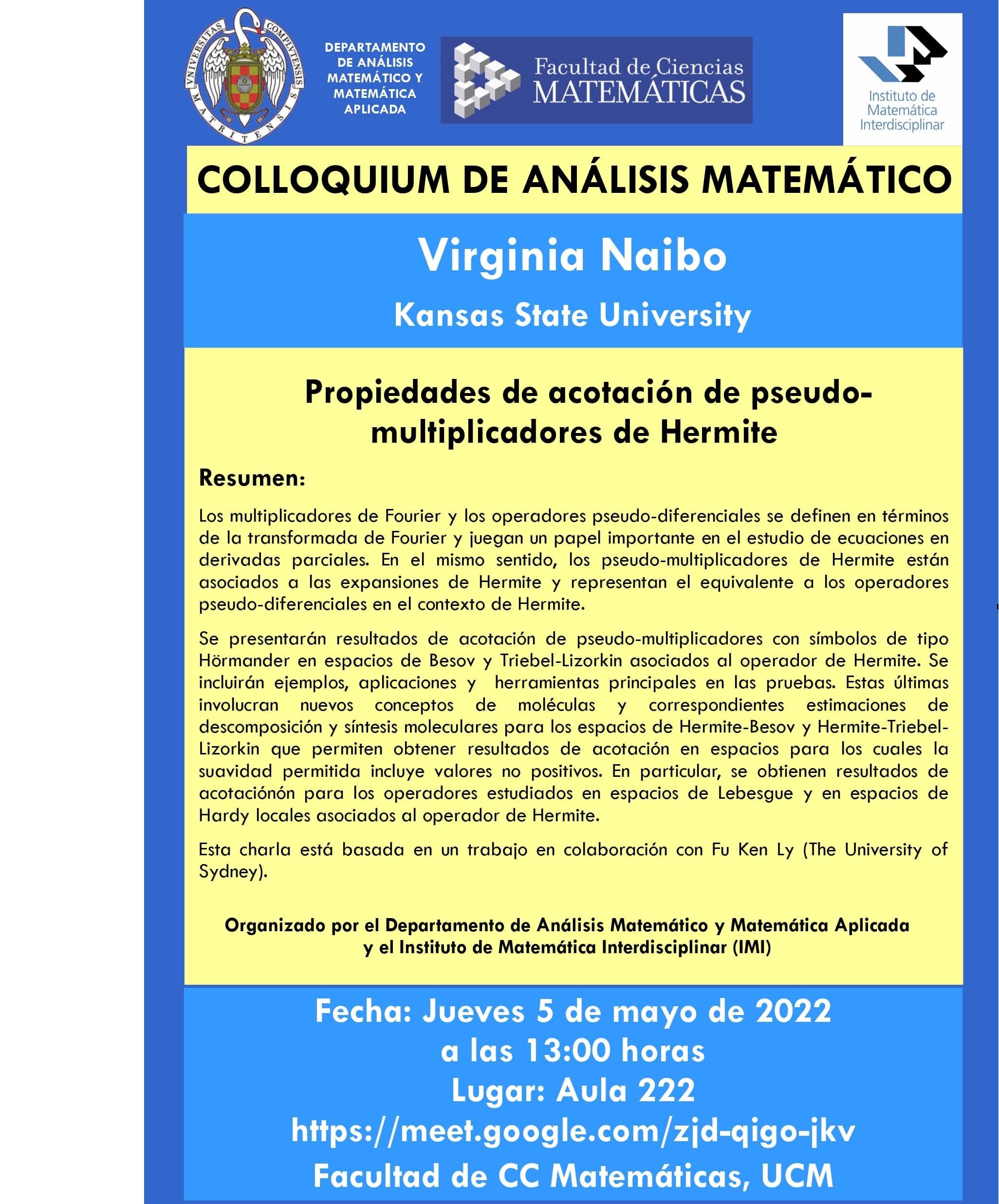 Colloquium de Análisis Matemático
Titulo: Propiedades de acotación de pseudo-multiplicadores de Hermite
Conferenciante: Virginia Naibo (Kansas State University)
Día: 5 de Mayo de 2022
Hora: 13:00h
Lugar: Aula 222 y Google meet
4) Nuevas publicaciones

J. I. Díaz
,
A. V. Podolskiy, T. A. Shaposhnikova, Boundary control and homogenization: optimal climatization through smart double skin boundaries,
Differential and Integral Equations, ISSN : 0893-4983, 2022, 35, 3 / 4, 191-210,

link
L. Vázquez,
M. P. Velasco, D. Baleanu, J. L. Vázquez-Poletti, S. Jimenez. From Eikonal to Antieikonal Approximations: Competition of Scales in the Framework of Schrödinger and Classical Wave Equation, Journal of Computational and Nonlinear Dynamics, 2022, Vol 17(8): 080801.
https://doi.org/10.1115/1.4054153
5) La viñeta matemática

Comic strip sent by Christopher J. Burke