Boletín Nº 40
Boletín Nº 40
1

)

Eventos del 14 al 18 de marzo de 2022
Seminario de Matemática Aplicada

Título: Desigualdad de Harnack para ecuaciones fraccionarias elípticas en forma de no divergencia
Conferenciante: Pablo Raúl Stinga (Iowa State University)
Día: 15 de marzo de 2022
Hora: 11:00h
Lugar: Seminario Alberto Dou (aula 209), Fac. de CC Matemáticas, UCM y Google Meet
Organizado por: Instituto de Matemática Interdisciplinar (IMI) y el Departamento de Análisis Matemático y Matemática Aplicada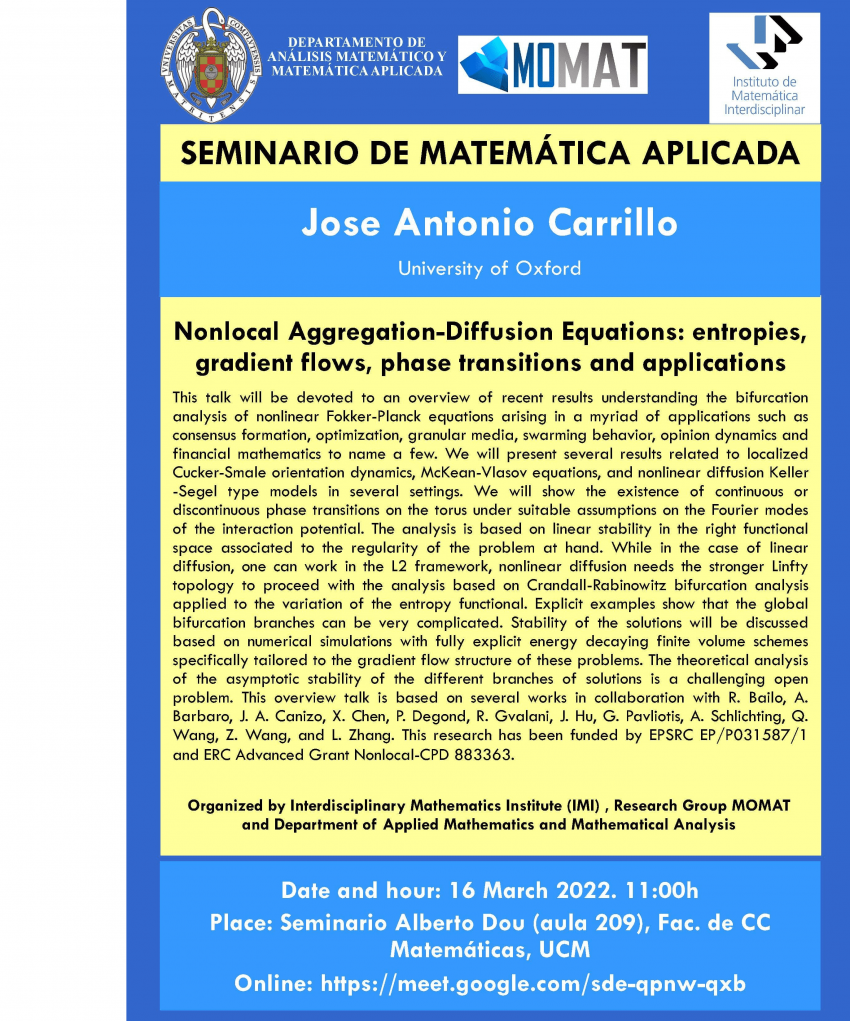 Seminario de Matemática Aplicada

Title: Nonlocal Aggregation-Diffusion Equations: entropies, gradient flows, phase transitions and applications
Speaker: José Antonio Carrillo (University of Oxford)
Day: 16 de marzo de 2022
Hour: 11:00h
Place: Seminario Alberto Dou (aula 209), Fac. de CC Matemáticas, UCM y Google Meet
Organized by: Interdisciplinary Mathematics Institute (IMI) , Research Group MOMAT and Department of Applied Mathematics and Mathematical Analysis
2) Nuevas publicaciones

R. Campoamor-Stursberg

. Lie-symmetry analysis of the Painlevé-Gambier classification of second-order scalar ordinary differential equations. In

Advances in Mathematics Research

. 2021, 29, 77 - 131.

ISBN:

978-1-53619-759-4.

Link

.

P. J. Chocano, M. A. Morón, F. R. Ruiz del Portal. Computational approximations of compact metric spaces. Physica D: Nonlinear Phenomena. 2022, 433, Article number 133168.
https://doi.org/10.1016/j.physd.2022.133168

J. Fernández-Sánchez, S. Maghsoudi, D. L. Rodríguez-Vidanes, J. B. Seoane-Sepúlveda. Classical vs. non-Archimedean analysis: an approach via algebraic genericity. Revista de la Real Academia de Ciencias Exactas, Físicas y Naturales - Serie A: Matemáticas. 2022, 116, 2, Article number 72.
3) La viñeta matemática