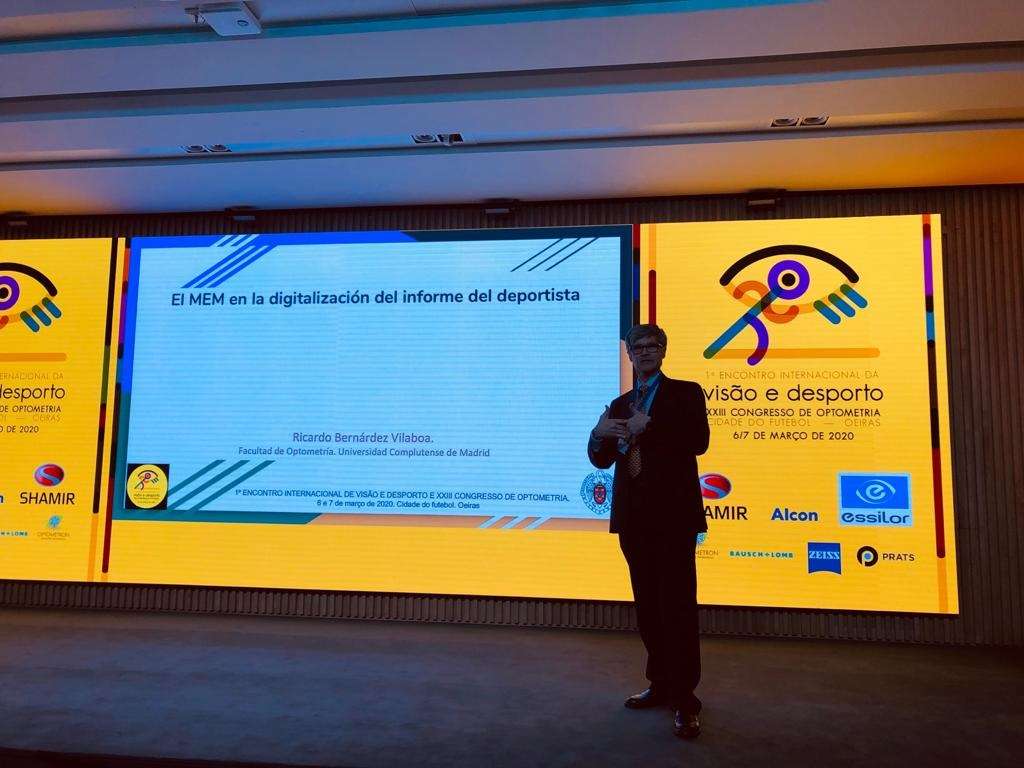 Otras actividades de los miembros del grupo
6/7 de marzo de 2020.
1º ENCONTRO INTERNACIONAL DE VISÃO E DESPORTO E XXIII CONGRESSO DE OPTOMETRIA.
Profesores invitados: Ricardo Bernárdez Vilaboa y Daniel Mon López con las conferencias: O MEM na Digitalização do Relatório do Atleta y Medição do Rendimento no Tiro Olímpico Através da Utilização de Sistemas Ópticos.
25 de septiembre de 2020.
Artículo: Bernárdez-Vilaboa, R. The Implication of Vision and Colour in Cultural Heritage. Heritage 2020, 3, 1063-1068
26 de septiembre de 2020
Expositores invitados en las conferencias de II seminario internacional "los desafíos de la educación para el siglo XXI": Aplicaciones virtuales en el aprendizaje semipresencial. Ricardo Bernárdez Vilaboa y Diseño de un modelo de evaluación de competencias en educación. Modelo MECE. José María Ruiz Ruiz. Universidad de Ambato. Ecuador.
2 de octubre de 2020
Poyales, F.; Pérez-Izquierdo, R.; Zhou, Y.; Rico, L.; López-Brea, I.; Garzón, N. Comparison of visual performance and patient satisfaction outcomes with two trifocal IOLs with similar optical design but different material. Clinical Ophthalmology (aceptado)
Viñas, M.; Marcos, S.; Dorronsoro, C.; Poyales, F.; Garzón, N. Longitudinal Chromatic Aberration in patients implanted with trifocal diffractive hydrophobic intraocular lenses. Journal of Refractive Surgery (aceptado)
Congreso: European Society of Cataract & Refractive Surgeons. Lugar de celebración: Amsterdam (HOLANDA) (online)
Garzón, N.; García-Montero, M.; López-Artero, E.; Alabarran, C.; Poyales, F. Interocular symmetry analysis measured with swept-source technology. Póster.
Garzón, N.; Poyales, F.; Pérez-Izquierdo, R.; López-Brea, I. Investigation of clinical outcomes after bilateral implantation of a hydrophobic trifocal intraocular lens FineVision Triumf (POD L GF). Póster
12 de octubre de 2020.
Mon-López, D.; Bernardez-Vilaboa, R.; Fernandez-Balbuena, A.A.; Sillero-Quintana, M. The Influence of COVID-19 Isolation on Physical Activity Habits and Its Relationship with Convergence Insufficiency. Int. J. Environ. Res. Public Health 2020, 17, 7406.
15 de octubre de 2020.
2 componentes del grupo participan en la 4ª edición PhDay de la Facultad de Óptica y Optometría 2020. Charlas: Intra-examiner repeatibility and agreement in the measurement of ocular heterophoria in young people. Software for real-time distance control and visio-postural control.
30 de noviembre de 2020.
5 componentes participan en el V congreso internacional online de Jóvenes optometrístas:
Estrategias de inserción laboral y de emprendimiento con estudiantes de grado (Póster). Autores: Gema Martínez-Florentin, Ricardo Bernárdez Vilaboa, Pilar Huerta Zavala y José María Ruiz Ruiz.
Test de agudeza visual en edad pediátrica (Póster)
Exotropía intermitente y alternante. Terapia visual (Póster)
Actuación del óptico - optometrista ante una membrana epirretiniana macular. Tres casos clínicos.
Gómez-Carmona P, Fernández-Cuevas I, Sillero-Quintana M, Arnaiz-Lastras J, Navandar A. Infrared Thermography Protocol on Reducing the Incidence of Soccer Injuries. J Sport Rehabil. 2020 Mar 17:1-6. doi: 10.1123/jsr.2019-0056. Online ahead of print.
Brito CJ, Moreira DG, Ferreira JJ, Díaz-de-Durana AL, Miarka B(1), Marins JCB, Sillero-Quintana M. Immune Response Related With Skin Thermal Pattern in Judokas: A New Application for Infrared Thermography?J Strength Cond Res. 2020 Oct;34(10):2886-2894. doi: 10.1519/JSC.0000000000002672
Dominguez-Balmaseda D, Diez-Vega I, Larrosa M, San Juan AF, Issaly N, Moreno-Pérez D, Burgos S, Sillero-Quintana M, Gonzalez C, Bas A, Roller M, Pérez-Ruiz M. Effect of a Blend of Zingiber officinale Roscoe and Bixa orellana L. Herbal Supplement on the Recovery of Delayed-Onset Muscle Soreness Induced by Unaccustomed Eccentric Resistance Training: A Randomized, Triple-Blind, Placebo-Controlled Trial.Front Physiol. 2020 Jul 21;11:826. doi: 10.3389/fphys.2020.00826. eCollection 2020.
de la Rubia Riaza A, Lorenzo Calvo J, Mon-López D, Lorenzo A. Impact of the Relative Age Effect on Competition Performance in Basketball: A Qualitative Systematic Review. Int J Environ Res Public Health. 2020 Nov 19;17(22):8596. doi: 10.3390/ijerph17228596.
Mon-López D, Moreira da Silva F, Calero Morales S, López-Torres O, Lorenzo Calvo J. What Do Olympic Shooters Think about Physical Training Factors and Their Performance? Int J Environ Res Public Health. 2019 Nov 21;16(23):4629. doi: 10.3390/ijerph16234629.

Mon-López D, Zakynthinaki MS, Cordente CA, García-González J. The Relationship Between Pistol Olympic Shooting Performance, Handgrip and Shoulder Abduction Strength. J Hum Kinet. 2019 Oct 18;69:39-46. doi: 10.2478/hukin-2019-0009. eCollection 2019 Oct.
Mon-López D, Tejero-González CM. Validity and reliability of the TargetScan ISSF Pistol & Rifle application for measuring shooting performance. Scand J Med Sci Sports. 2019 Nov;29(11):1707-1712. doi: 10.1111/sms.13515. Epub 2019 Jul 31.

Mon-López D, Tejero-González CM, de la Rubia Riaza A, Calvo JL. Pistol and Rifle Performance: Gender and Relative Age Effect Analysis. Int J Environ Res Public Health. 2020 Feb 20;17(4):1365. doi: 10.3390/ijerph17041365.
Mon-López D, de la Rubia Riaza A, Hontoria Galán M, Refoyo Roman I. The Impact of Covid-19 and the Effect of Psychological Factors on Training Conditions of Handball Players. Int J Environ Res Public Health. 2020 Sep 5;17(18):6471. doi: 10.3390/ijerph17186471.
Mon-López D, García-Aliaga A, Ginés Bartolomé A, Muriarte Solana D. How has COVID-19 modified training and mood in professional and non-professional football players? Physiol Behav. 2020 Dec 1;227:113148. doi: 10.1016/j.physbeh.2020.113148. Epub 2020 Aug 25.
Calvo JL, García-González J, Flo García M, Mon-López D. Development and Validation of a Well-Being Measure on Young Basketball Players: The NFAPW Scale. Int J Environ Res Public Health. 2020 Oct 30;17(21):7987. doi: 10.3390/ijerph17217987.
2 de febrero de 2021.
Daniel Mon-López
,Ricardo Bernardez-Vilaboa
,Manuel Sillero-Quintana
&Antonio Alvarez Fernandez-Balbuena. Air shooting competition effects on visual skills depending on the sport level. European Journal of Sport Science. 2 feb 2021; DOI: 10.1080/17461391.2021.1874540.
20 de febrero de 2021.
María García Montero & Esther López Artero & Nuria Garzón Jiménez & César Albarrán Diego & Rafael José Pérez Cambrodí & Igor Illarramendi Mendicute & Juan Carlos Ondategui Parra & Francisco Alba Bueno. Cirugía refractiva. Protocolo de exploración de visión binocular y acomodación. Editorial Elsevier.
23 de junio de 2021
Vanesa Blázquez Sánchez, Ricardo Bernárdez Vilaboa, Cristina Bonnin Arias, Nuria Garzón Jimenez, Yolanda Martín Pérez, Gema Martínez Florentín y Francisco Luis Prieto Garrido. Video de aprendizaje con conexión a redes sociales en Optometría II. Jornadas del aprendizaje eficaz con TIC en la UCM. Madrid. Universidad Complutense de Madrid.
Actividad del proyecto
Metodología y plan de trabajo del proyecto de innovación 118
1. Reuniones del profesorado de Optometría que implantarán el sistema completo. (septiembre-octubre 2020) Realizado
2. Implantación del sistema completo y adquisición de 2 tablets según el Catálogo de Equipamiento Informático para la UCM y la Fundación General de la UCM a fecha del 8 de julio de 2020, con nº de Expediente según el acuerdo Marco 15/18. (noviembre 2020- febrero 2021) Comprados memorias y una sola tablet (Implatación del sistema)
3. Ejecución del sistema completo de la Tecnología innovadora en abierto para una universidad inclusiva, accesible y aplicada a prácticas de Optometría (Febrero 2021-mayo 2021). Se inicia el 15 de febrero de 2021
4. Se formarán a profesores de otras asignaturas y adecuará la ficha digital a sus prácticas (Abril 2021-junio 2021) terminado julio 2021
5. Presentación de los resultados y conclusiones en congresos internacionales de Educación en ciencias de la salud. (Abril 2021-julio 2021) CINAIC21 PONENCIA 13


Publicación Resolución Provisional Proyectos Innova-Docencia e Innova-Gestión Calidad 2020-2021
Finalizado el plazo de presentación de solicitudes para la presentación de proyectos de Grupos Innovadores y de proyectos de Centros y Servicios, convocado por Resolución del 24 de junio de 2020, El Vicerrectorado de Calidad, en virtud de lo dispuesto en la base 7 de la convocatoria 2020-2021, declara aprobadas las listas provisionales de proyectos de INNOVA-DOCENCIA e INNOVA-GESTIÓN CALIDAD, concedidos y denegados, que se podrán consultar en los siguientes enlaces, https://www.ucm.es/proyectos-de-innovacion-2020-2021 sirviendo de notificación a los interesados a todos los efectos.
Nuestro equipo ha recibido la concesión del proyecto 118 en ciencias de la Salud.