Government, Public Policy and Democracy
Government, Public Policy and Democracy
The primary objective of this program is to promote the study of innovation and technological advancement in relation to economic factors and social welfare, in both a national or macroeconomic as well as commercial context. To that end, we seek to develop research, instruction, and collaborative study at international, national, and regional levels.
With our highly qualified and experienced team of instructors and researchers, we combine extensive research and field experience in an open network, enabling long-distance collaboration through a wide range of online tools.
Our studies focus on the dynamic relationships between innovation and economic activity, specifically in three key areas:
Research: Exploring the economics of innovation

Commercial: Understanding the nature of success in the marketplace of ideas

Public: Examining the relationship between institutions and economic development
---
Research / Collaborations / Activities
Courses in Latin American studies

Study of optimal practices to promote political participation (CLAD)

Study of Foro Social de Madrid (CAM and UCM)

Study of efforts to create a common legal structure amongst ALBA member states

Study of quality democratic institutions (Ministry of Science and Technology, Venezuela)

Latin American School of Government, Public Policy and Citizenship (Centro Internacional Miranda)

Social analysis, democracy, and cinema: a critique (UCM)
---
Publications
Juan Carlos Monedero, Venezuela.La revolución mágica, en Mabel Thwaities (ed.) El Estado en América latina, Santiago de Chile, CLACSO, 2012.
Juan Carlos Monedero y Pablo Iglesias, Que no nos representan, Madrid, Ed. Popular, 2012
Juan Carlos Monedero, El legado de Chávez, CIM, Caracas, 2012.

Working Paper sobre Mejores prácticas (ICEI)

Estudio sobre armonización legal (en edición)

Juan Carlos Monedero, Dormíamos y despertamos. El 15M y la reinvención de la democracia, Nueva Utopía, Madrid, 2012.
Pablo Iglesias (ed.), Maquiavelo en el cine, Madrid, Catarata, 2013.
Juan Carlos Monedero, A la izquierda de lo posible, Barcelona, Icaria, 2013.
Juan Carlos Monedero, La transición contada a nuestros padres, Madrid, Catarata, 2011.
Juan Carlos Monedero, Disfraces del Leviatán, Madrid, Akal, 2009.
---
Program Director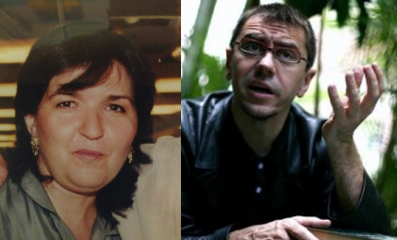 Esther del Campo y Juan Carlos Monedero
---
Members
UCM Researchers:

Ariel Jerez

Erik Guerrero

Alfredo Ramos

Esther del Campo
---
Other ICEI Research Programs
---