Notas de Prensa 2018-11-15 - Barnard's Star b
Notas de Prensa 2018-11-15 - Barnard's Star b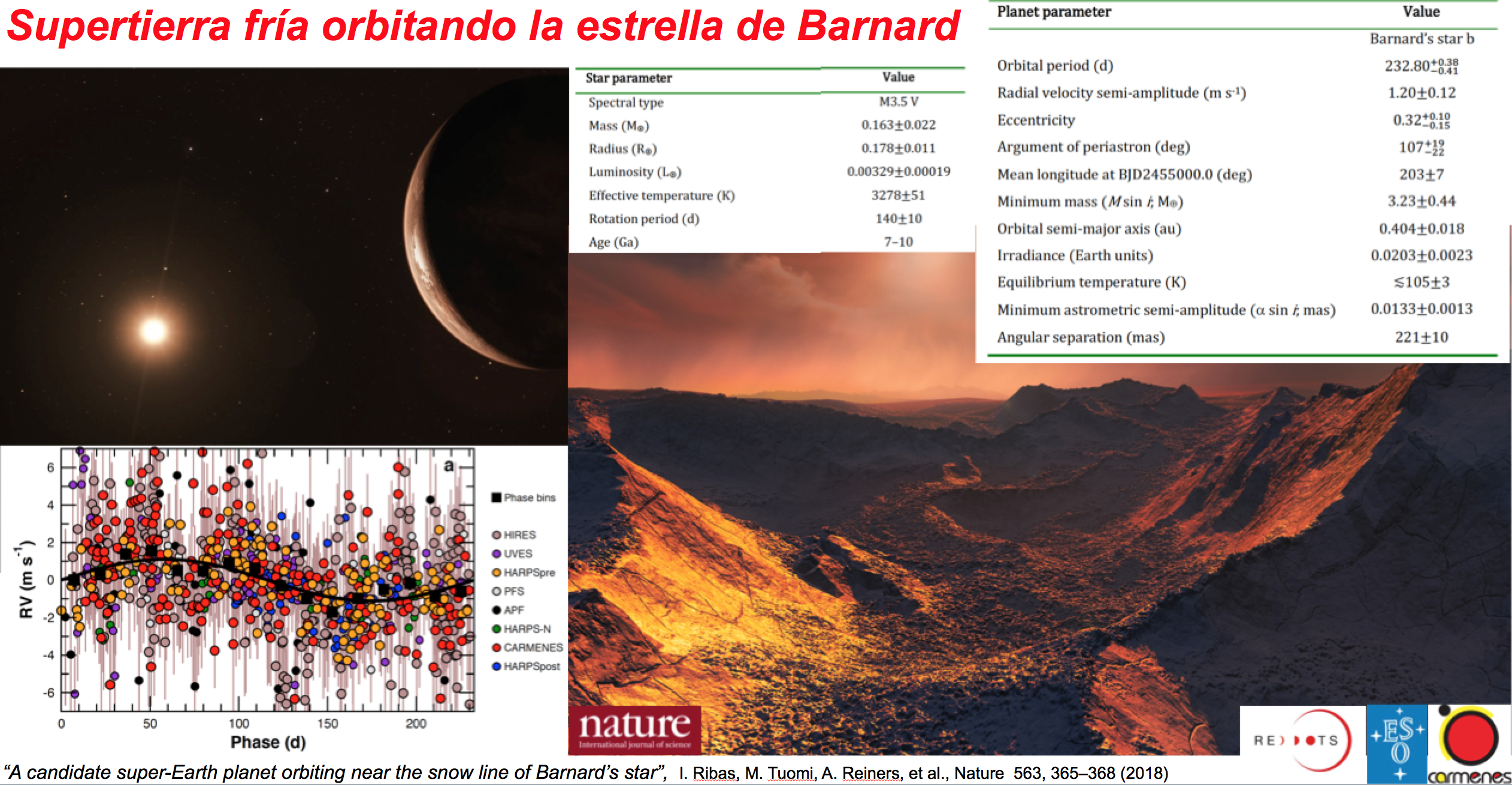 Videos:
Planeta órbitando alrededor de la estrella de Barnard.


ESOCast 184 Light: Una supertierra orbitando a la estrella de Barnard


Menciones en Noticias, Articulos, etc...:
* space.com:
- Icy 'Super-Earth' Exoplanet Spotted Around Nearby Barnard's Star
- Barnard's Star b: What We Know About Nearby 'Super-Earth' Planet Candidate
- The Most Fascinating Exoplanets of 2018
* Scientific American:
- Astrobiology Highlights of 2018
* Science:
- Super-Earth spied in the second-closest star system from the sun
* The Washington Post:
- Signs of a 'super Earth' discovered around a nearby star
* discovermagazine
- The Complicated History of Planets Around Barnard's Star
Publicación:
- A candidate super-Earth planet orbiting near the snow line of Barnard's star
I. Ribas, M. Tuomi, A. Reiners, et al.
Nature 15 nov 2018
Nature 563, 365–368 (2018) - ADS: 2018Natur.563..365R


- NEWS AND VIEWS 14 NOVEMBER 2018
- A key piece in the exoplanet puzzle, R.E. Díaz, Nature 563, 329-330 (2018)
The detection of a low-mass exoplanet on a relatively wide orbit has implications for models of planetary formation and evolution, and could open the door to a new era of exoplanet characterization.


Additional papers:
- Prospects for detecting the astrometric signature of Barnard's Star b
Lev Tal-Or, Shay Zucker, Ignasi Ribas, Guillem Anglada-Escudé, Ansgar Reiners
A&A 2019A&A...623A..10T
- Stellar activity analysis of Barnard's Star: Very slow rotation and evidence for long-term activity cycle
Toledo-Padrón, B.; González Hernández, J. I.; Rodríguez-López, et al.,
MNRAS, 2019MNRAS.488.5145T