Proyectos / Projects
Proyectos / Projects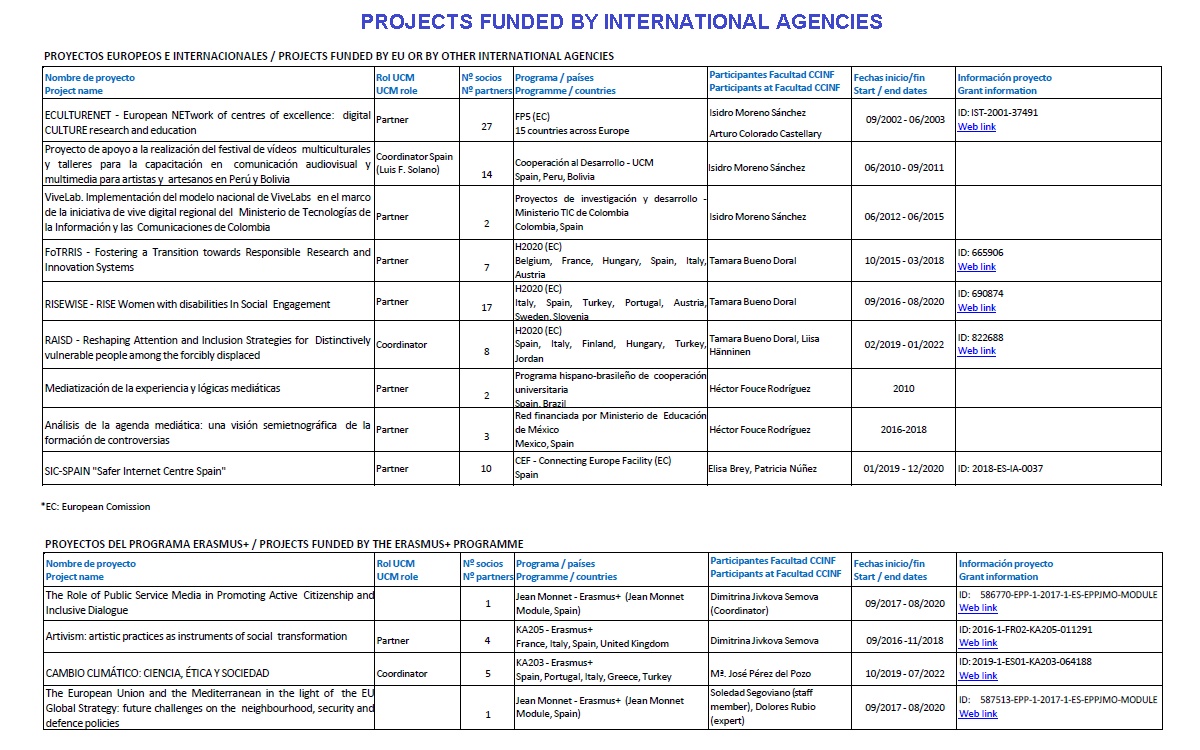 ECULTURENET - European NETwork of centres of excellence: digital CULTURE research and education
Description
This project is a preparatory action for E-Culture Net. A consortium of at least 24 members from 15 countries, 6 existing networks and links with 2 networks abroad, has been formed to evolve into a Network of Centres of Excellence (NCE) in the 6thFP. The project will refine the vision and structure; explore expansion and links with emerging national and other networks. It will identify/define research topics; how teaching can focus those topics; how broadband pilots can generate new research topics among partners and lay the foundation for a Distributed European Electronic Resource (DEER) for research and higher education.
Results
E-Culture Net began on 1 July 2002 as a one-year thematic network and resulted in twelve outcomes: 1) website with definition of vision, structure, expansion; 2) first steps towards Distributed European Electronic Resource (DEER) including scenarios for interfaces; 3) development of DACO protocol for access to local databases; 4) demonstration of protocol; 5) broadband demo; 6) definition of broadband pilots; 7) criteria and topics for European Masters and Doctorates; 8) demo of research matrices and research topics; 9) development of first national networks; 10) written agreements with number of partners; 11) permanent home in the new European University of Culture (Strasbourg) and 12) submission of proposal to become an NCE to the 6th Framework Programme.
FoTRRIS - Fostering a Transition towards Responsible Research and Innovation Systems
Objectives
The main objective of FoTRRIS is to develop and introduce new governance practices to foster Responsible Research and Innovation (RRI) policies and methods in research and innovation systems. Since research and innovation systems and practices in different European MS and within different research performing organisations vary, FoTRRIS will consider the implementation of new governance practices in five different MS.
In order to stress that responsible research and innovation is a collaborative activity from the very beginning—collaboration starts 'upstream', from the definition of the problem or challenge, continues with the analysis of the problem, the projection of potential solutions, the design of a research and innovation project that aims at realising a solution, and goes on during its performance and monitoring—FoTRRIS adds the prefix 'co' to the acronym RRI.
Moreover, because important present-day challenges are (at least partially) of a global nature, but manifest themselves in ways that are influenced by local conditions, FoTRRIS focusses on 'glocal' challenges, i.e. local/regional manifestations of global challenges and on 'local' opportunities for solving them.
Results
Website: http://www.fotrris-h2020.eu/
• Publications:
- The role of local communities in the co-creation of innovations for inclusive and sustainable territorial development: The Madonie case
Author(s): Jelena Mazaj, Silvana Di Bono, Arabella Mocciaro Li Destri.
Published in: "Business and Management" is peer-reviewed conference proceedings published by Vilnius Gediminas Technical University, 2018.
- A Rocky Road to co-RRI: Barriers for Collective Efforts to Pursue RRI
Author(s): Zoltán Bajmocy, Sandra Karner, Marian Deblonde, Balint Balasz, Zoltán Elekes, Judit Gebert, and others.
Published in: Book of Abstracts 15th Annual STS Conference Graz 2016 Critical Issues in Science, Technology and Society Studies (9-10 May 2016), 2017.
Author(s): Anita Thaler. 2017.
- Possible economic models for RRI practices
Author(s): Eve Dallamaggiore.
Published in: Book of Abstracts 15th Annual STS Conference Graz 2016 Critical Issues in Science, Technology and Society Studies (9-10 May 2016), 2017.
- Responsible research and innovation applied to human rights and higher education
Author(s): Tamara Bueno Doral, Liisa Hänninen, and Noelia García Castillo. 2016.
- RRI in Österreich: Positionspapier 'Verantwortungsbewusste Forschung und Innovation' - Begriffsbestimmung, Herausforderungen, Handlungsempfehlungen(transl.: RRI in Austria: Position Paper on 'Responsible Research and Innovation' - definition, challenges, recommendations)
Author(s): Helene Schiffbänker, Silvia Hafellner, Wolfgang Polt, Nicole Föger, Karin Garber, Erich Grießler, and others. 2016.
- Responsible action research. Co-defining solutions to forced migration and communication flows
Author(s): Noelia García Castillo, Tamara Bueno Doral, Liisa Hänninen, and Tulay Atay Avsar. 2018.
RISEWISE - RISE Women with disabilities In Social Engagement
Objectives
Women with disabilities have more difficulties to find an employment and to integrate in social day life activities than men with disabilities. This project focuses on the collective of women with disabilities from different perspectives, trying to identify needs and best practices in several EU countries, representing different cultural and socio-economic environments, for the integration and improvement of their quality of life in several respects. By applying a novel analysis method, based on the experience acquired by the exchange of researchers, innovation staff and practitioners in the European area among the participating institutions, the project will identify a set of multi-sectorial research lines, to enhance integration and involvement of this population in the society along several dimensions.
Web site: http://www.risewiseproject.eu/
RAISD - Reshaping Attention and Inclusion Strategies for Distinctively vulnerable people among the forcibly displaced
Description
Recognising and addressing the needs of highly vulnerable groups (VG) among migrating people is the ambition of the project RAISD. H2020-funded, this project proposes the creation of combined methodology in the framework of Responsible Research and Innovation. Their participatory action research approach will allow the VG groups to become a part of the whole process. Social and computer sciences research along with automated learning and data will minimise biases. Researchers will work in a network of organised teams in countries along migration routes.
Objectives
Forced displacement crises overcome societies and institutions all over the world. Pushed by the urgencies rather than events, solutions are frequently reactive, partial, and disregard some groups. The project RAISD aims at identifying highly Vulnerable Groups among these forcibly displaced people, analysing their specific needs, and finding suitable practices to address them. The concept of 'vulnerability context' considers the interplay between the features of these persons and their hosting communities, their interactions and experiences, and how different solutions for attention and inclusion affect them. As a result of this work, a methodology to carry out these studies will be developed. These goals pursue characterizing these migrations and developing suitable aid strategies for them.
Web site: https://raisd-h2020.eu/
SIC Spain - Internet Segura for Kids (IS4K)
Description
The Action, coordinated by S.M.E. Instituto Nacional de Ciberseguridad de España aims at continuing to support the Safer Internet Centre (SIC) in Spain, which is providing:
1. An Awareness Centre to inform children, parents, teachers and other professionals working with children on better and safer use of the internet, building on digital repositories from which specific awareness toolkits and services will be adapted and deployed in cooperation with third parties (schools, industry and other network partners).
2. A Helpline service where children and parents can report harmful contact (e.g. grooming, online abuse), offensive conduct (e.g. cyberbullying, hate speech, sexting), and undesirable or harmful content (e.g. harassment, pornography, violence).
3. A Hotline to receive and manage reports on illegal online child sexual abuse material in cooperation with the Spanish Law Enforcement Agencies.
The three components of the SIC will cooperate by continuing a single Advisory Board with national stakeholders. The SIC will also engage with children and young people through a dedicated Youth Panel.
Finally, the beneficiaries will further develop their role of providing generic services and will closely coordinate their activities with the core service platform (BIK platform) and with the INSAFE and INHOPE networks.