Journal of Comparative Literature and Aesthetics
Journal of Comparative Literature and Aesthetics
The Journal of Comparative Literature and Aesthetics JCLA ISSN: 0252-8169 is a publication of the Vishvanatha Kaviraja Institute of Comparative Literature and Aesthetics. Prof. Ananta Ch. Sukla (FoundingEditor) established the journal in 1978 in collaboration with Rene Wellek, Harold Osborne, Mircea Eliade, John Fisher, Monroe Beardsley, John Hospers, Meyer Abrams and several others well-known CompLit scholars.
JCLA invites articles from various disciplines to complement the multifacted aspects of Comparative Literature and Aesthetics.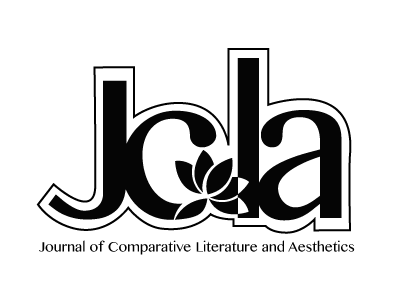 The journal has a code of ethics to ensure a commitment to integrity by contributors, editors and reviewers.
Founding Editor: Prof. Ananta Sukla (Director Vishvanatha Kaviraja Institute Comparative Literature & Aesthetics Orissa, India) <anantasukla@hotmail.com>
International Editor 1: Prof. Asun LópezVarela (European Society of Comparative Literature) <alopezva@ucm.es>
International Editor 2: Prof. Richard Shusterman (Director Center for Body Mind & Culture, Florida Atlantic University) <shuster1@fau.edu>
International Scientific Committee
Roger Ames (University of Hawaii US), David Damrosch (Director Institute for World Literature Harvard University) Alexa Huang (MIT & George Washington University US), Susan Feagin (Temple University), David Fenner (Dean, University of North Florida), Garry Hagberg (Bard College), John Hyman (Qeen's College, Oxford), Peter Lamarque (University of York), Brigitte Le Juez (Dublin City University & European Society of Comparative Literature), John MacKinnon (Saint Mary"s University, Halifax, Canada), Grazia Marchiano (University of Siena, Italy), W.J.T. Mitchel (University of Chicago, US), Osayimwense Osa (Virginia State University, US), George E. Rowe (University of Oregon, US), Sushil K. Saxena (University of Delhi, India), Kalpana Seshadri (Boston College, US), Meir Sternberg (Tel Aviv University), Deborah Weagel (University of New Mexico).