[...]
Innate Lymphoid Cells (Cruz-Adalia A)
Innate Lymphoid Cells (Cruz-Adalia A)
Innate Lymphoid Cells
Molecular mechanisms regulating ILC3 immune responses
Research interests
The discovery of antibiotics has transformed modern medicine and saved millions of lives. However, the indiscriminating use of antibiotic has emerged bacterial resistance worldwide and the expansion of immune disorders due to the alteration of the microbiota composition. Innate lymphoid cells (ILCs) represent the most recently identified arm of tissue-resident immune cells, that play essential roles in maintaining microbiota, protecting the tissue barrier against invading pathogens and regulating inflammatory disease. Therefore, the understanding of the cellular and molecular mechanisms that regulate ILCs function during an infection or inflammatory diseases is very timely and necessary to design new treatments or tools for diagnosis in the future. Dr. Aranzazu Cruz-Adalia's lab is interested in deciphering the cellular, molecular and metabolic mechanisms by which ILC3s are regulated in physiological conditions and during enteric pathogen infections or intestine associated inflammatory disorders.
Group members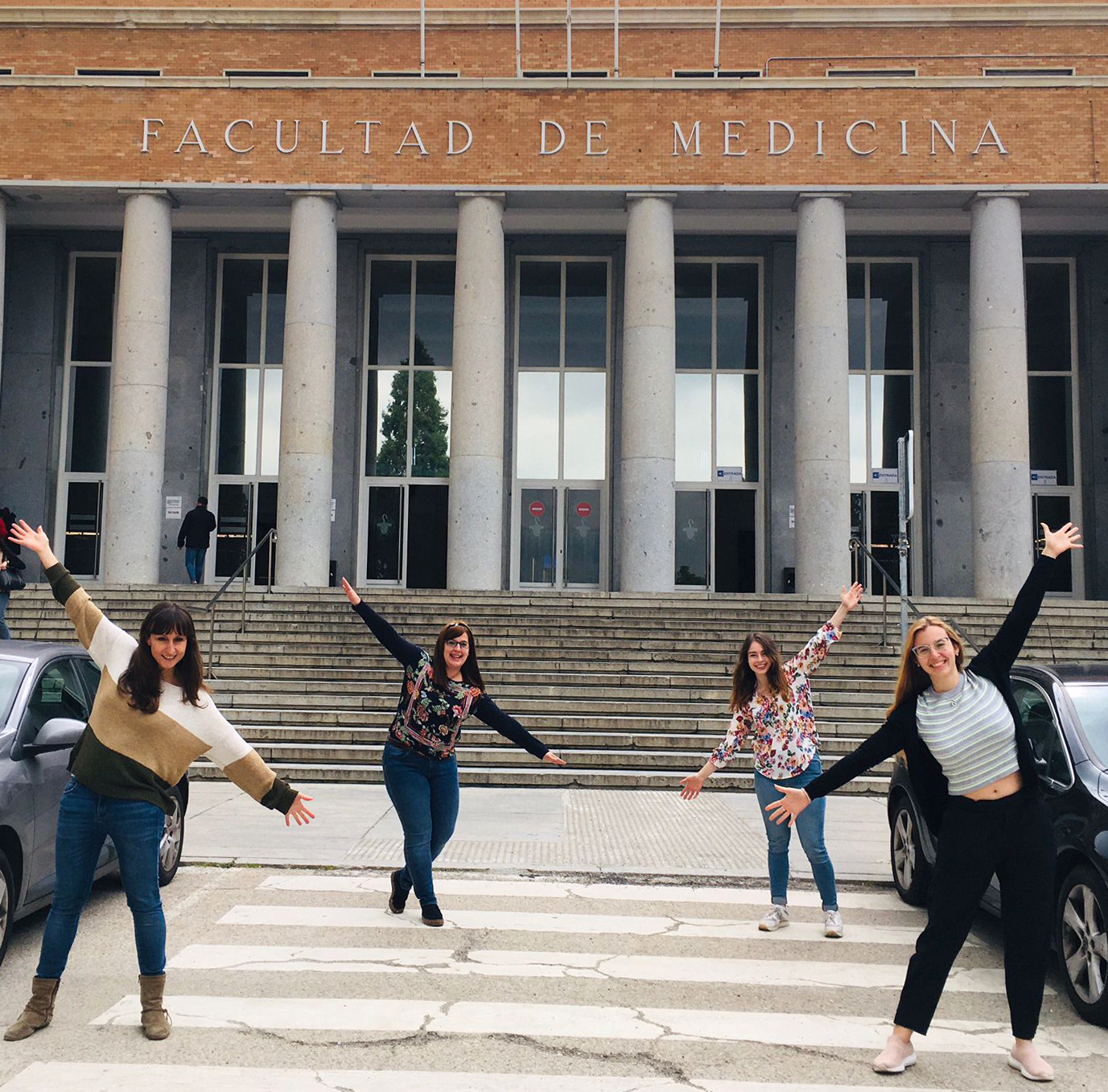 Principal investigator
Aranzazu Cruz Adalia
PhD student
Ana Valle Noguera
Master's student
Anne Ochoa Ramos
Technician
María Jose Gomez
Training Opportunities
- Postdoctoral Fellows
We welcome postdocs to apply the UNA4CAREER fellow (https://www.una-europa.eu/una4career/). Interested candidates should inquire by email to arancruz@ucm.es. Please attach your curriculum vitae, a PDF of any recent publication(s) and the names and email addresses of two professional references.
- PhD or MD/PhD Students
Students interested should inquire by email to arancruz@ucm.es
Last publications
- Valle-Noguera A, Gómez-Sánchez MJ, Girard-Madoux MJH, Cruz-Adalia A. Optimized protocol for characterization of mouse gut innate lymphoid cells. Frontiers in Immunology. 2020; 11: 563414.
- Cruz-Adalia A*, Ramirez-Santiago G; Osuna Perez J; Torres-Torresano M; Zorita V; Martinez-Riaño A; Boccasavia V; Borroto A; Martinez del Hoyo G; Gonzalez-Granado JM; Alarcón B; Sánchez-Madrid F; Veiga E. Conventional CD4+ T cells present bacterial antigens to induce cytotoxic and memory CD8+ T cell responses. Nature Communications. 2017. 8(1) – 1591. *Co-corresponding author
- Cruz-Adalia A*; Veiga E*. Close encounters of lymphoid cells and bacteria. Frontiers in Immunology. 2016. 7 – 405. *Co-corresponding author
- Ramírez Santiago, G.; et al. 2016. Clathrin regulates lymphocyte migration by driving actin accumulation at the cellular leading edge. Eur J Immunol. 46(10):2376-2387.
- Cruz-Adalia A, Ramirez-Santiago G; Calabia-Linares C; Torres-Torresano M; Feo L; Galán-Díez M; Fernández Ruiz E; Pereiro E; Guttmann P; Chiappi M; Schneider G; López-Carrascosa J; Chichón FJ; Del Hoyo GM; Sánchez-Madrid F; Veiga E. T cells kill bacteria captured by transinfection from dendritic cells and confer protection in mice. Cell Host & Microbe. 2014. 15 (5): 611-33.
Current fundings