Marta Rodríguez Martínez
Marta Rodríguez Martínez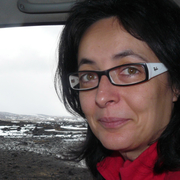 English Spanish
Profesor Contratado Doctor
Firma de trabajos: Rodríguez-Martínez, M.
Dirección postal
Departamento de Geodinámica, Estratigrafía y Paleontología
Facultad de Ciencias Geológicas
Universidad Complutense
José Antonio Nováis, 12, 3ª planta, dp. 3A
28040 Madrid, España
Selección de Publicaciones Representativas recientes
Quijada, E., Isabel Benito, M., Suarez-Gonzalez, P., Rodríguez-Martínez, M., Campos-Soto,S. 2020. Challenges to carbonate-evaporite peritidal facies models and cycles: insights from Lower Cretaceous stromatolite-bearing deposits (Oncala Group, N Spain),

Sedimentary Geology, 105752, Link

2019.

First microbial-archaeocyathan boundstone record from early Cambrian erratic cobbles in glacial diamictite deposits of Namibia (Dwyka Group, Carboniferous),

Journal of Systematic Palaeontology, 17(11):

881-910.

Rodríguez-Martínez, M., Perejón, A., Moreno-Eiris, E., Menéndez, S., Buggisch, W. 2019. "Calcimicrobial-archaeocyath-bearing clasts from marine slope deposits of the Cambrian Mount Wegener Formation, Coats Land, Shackleton Range, Antarctica." Estudios Geológicos, 75.2 (2019): 10-3989.

Rodríguez-Martínez, M., Reitner, J. 2015. Paleoenvironmental reconstruction of a downslope accretion history: From coralgal-coralline sponge rubble to mud mound deposits (Eocene, Ainsa Basin, Spain). Sedimentary Geology, 330, 16-31.
Creveling, J., Fernández-Remolar, R. D., Rodríguez-Martínez, M., Menéndez, S.,Bergmann, K.D., Benjamin C. Gill, John Abelson, Ricardo Amils, Bethany L. Ehlmann, Diego C. García-Bellido, John P. Grotzinger, Christian Hallmann, Kathryn M. Stack, Andrew H. Knoll. 2013. Geobiology of a lower Cambrian carbonate platform, Pedroche Formation, Ossa Morena Zone, Spain. Palaeogeography, Palaeoclimatology, Palaeoecology. 386:459-478.
Rodríguez-Martínez, M., I. Moreno-González, R. Mas, J. Reitner. 2012. Paleoenvironmental reconstruction of microbial mud mound derived boulders from gravity-flow polymictic megabreccias (Visean, SW Spain). Sedimentary Geology, 263–264: 157-173.
Rodríguez-Martínez, M., F. Sánchez, E.O. Walliser, J. Reitner. 2012. An Upper Turonian fine-grained shallow marine stromatolite bed from the Muñecas Formation, Northern Iberian Ranges, Spain. Sedimentary Geology, 263–264: 96-108.
Perejón, A., E. Moreno-Eiris, T. Bechstädt, S. Menéndez, M. Rodríguez-Martínez. 2012. New Bilbilian (early Cambrian) archaeocyath-rich thrombolitic microbialite from the Láncara Formation (Cantabrian Mts., northern Spain). Journal of Iberian Geology. 38(2): 313-330.