[...]
The Modernity of Dante
The Modernity of Dante
THE MODERNITY OF DANTE (I)
INTERNATIONAL CONFERENCE
MADRID, 13-15 OCTOBER
Organisers: Área de Italiano del Departamento de Estudios Románicos, Franceses, Italianos y Traducción (UCM); Istituto Italiano di Cultura di Madrid; Asociación Complutense de Dantología
In collaboration with: Residencia de Estudiantes, Círculo de Bellas Artes (Student Resident Hall and Circle of Fine Arts)
Organising committee: Rosa Affatato, Chiara Cappuccio, Carlota Cattermole Ordóñez, Celia de Aldama Ordóñez, Chiara Giordano, Augusto Nava Mora, Yovanny Petit Aguirre, Laura Rivas Vicente, Juan Varela-Portas de Orduña.
Scientific committee: Rossend Arqués (UAB), Lorenzo Bartoli (UAM), Paolo Borsa (Univ. de Fribourg), Guido Capelli (Univ. L'Orientale di Napoli), Michele Curnis (UC3M), Enrico Fenzi (Univ. di Genova), Ángel García Galiano (UCM), José Manuel Lucía Megías (UCM), Giuseppe Marrani (Univ. per stranieri di Siena), Raffaele Pinto (UB), Valerio Rocco Lozano (UAM), Nuria Sánchez Madrid (UCM), Rosario Scrimieri Martín (UCM), Natascia Tonelli (Univ. di Siena), Juan Miguel Valero Moreno (Univ. de Salamanca), Marco Veglia (Univ. di Bologna), Eduard Vilella Morató (UAB).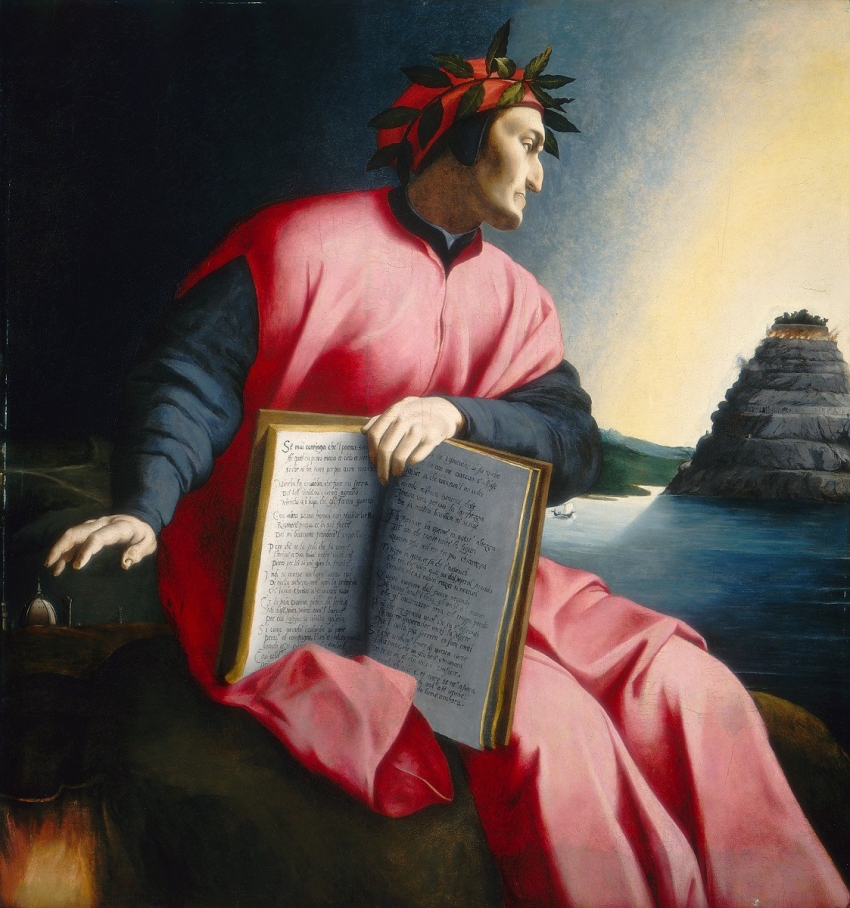 Allegorical Portrait of Dante (1533-34) by Agnolo Bronzino
WEDNESDAY, OCTOBER 13
College of Philology (UCM), Paraninfo
TRIBUTE TO CARLOS LÓPEZ CORTEZO,
WITH THE PRESENTATION OF THE BOOK "I PASSI FIDI", STUDI IN ONORE DI CARLOS LÓPEZ CORTEZO (ROMA, ARACNE, 2020)
("The faithful steps", studies in honour of Carlos López Cortezo; Rome, Aracne, 2020)
Presided over by Ángel García Galiano (Univ. Complutense de Madrid)

Rosa Affatato (Asoc. Complutense de Dantología): Falso bene e vera conoscenza tra Inferno XXXIV e Purgatorio XXXIII attraverso i commenti medievali alla Commedia. (False sake and true knowledge between Hell XXXIV and Purgatory XXXIII through the medieval commentaries on the Divine Comedy)

Carlota Cattermole (Univ. Complutense de Madrid): La malattia come allegoria della falsità (If. XXIX e XXX) – (Illness as an allegory of falsehood; If. XXIX and XXX)

Juan Varela-Portas (Univ. Complutense de Madrid): Allegoria contro la cupidigia (Allegory against covetousness)
18:30-20:00 - CONCIERTO INAUGURAL: Sinfonía Dante de Liszt, Orquesta Filarmónica Cervantina (INAUGURAL CONCERT: Liszt's Dante Symphony, Cervantina Philharmonic Orchestra)
FRIDAY, OCTOBER 15
Institute of Italian Culture in Madrid and Student Residence Hall
Presided over by

Lorenzo Bartoli

(Univ. Autónoma de Madrid)

Giuseppe Marrani

(Univ. per Stranieri de Siena): L'Inferno della contenzione psichiatrica e il linguaggio letterario del Novecento. (The Hell of psychiatric restraint and the literary language of the 20th century)

Paola Ureni

(Univ. de New York): Intersezioni fra linguaggio medico e linguaggio poetico in Dante. (Intersections between medical language and poetic language in Dante)

Chiara Cappuccio

(Univ. Complutense de Madrid): Linguaggio poetico e linguaggio musicale nel

Purgatorio.

(Poetic language and musical language in Purgatory)
11:30: Break time
Presided over by

Marialuisa Pappalardo

(Istituto Italiano di Cultura)

Sergio Cristaldi

(Univ. de Catania): L'avvento della Donna Gentile

(The advent of the Gentle Woman)

Giuseppe Alvino

(Escuela Superior Meridionale): Autogiudizio e autogiustificazione delle anime tra

Inferno

e

Purgatorio.

(Self-judgment and self-justification of souls between Hell and Purgatory)

Claudia Fernández

(Univ. de Buenos Aires): I narratori inaffidabili dell'Inferno: spie per un modello di lettura.

(The unreliable narrators of Hell: spies for a reading model)
19:00-20:00 - TEATRO: LAS MUJERES DE LA COMEDIA, by Carmen Aldama and Raffaele Pinto. (THE PLAY: The women in the Divine Comedy)
21:00 - CENA SOCIAL (SOCIAL DINNER)
In addition to being the interface between ancient literature and modern literature, according to the brilliant teaching of Curtius. Dante is also a visionary prophet of the lines of development of modern culture, and not only literary, of which he is capable of indicating, from his historical position, the goals and limits, as a great interpreter of the Florentine saw when he wrote that Dante "is not a survivor, but someone who has come before us" (Contini). This explains the uninterrupted, and increasingly frequent, re-use of Dantesque materials in contemporary artistic experimentation, not only Italian but also planetary, thanks to the global diffusion of the values of European modernity.
These considerations lead us to propose, on the occasion of the Seventh Centenary of the Death of the Supreme Poet, and within the general programme Madrid Città/Ciudad Dantesca, a different approach to the traditional interpretative approach to his work, which emphasises its problematically innovative aspects as opposed to those of recapitulation of the past and of tradition, a tendency which, moreover, can be seen in some of the most recent studies.
This Madrid meeting is the first part of a conference that will be carried in two phases, the first in Madrid, academically promoted by the Asociación Complutense de Dantología, and the second in Barcelona, under the auspices of the Societat Catalana d'Estudis Dantescos, in an event that continues the collaborative work that the two associations have maintained for more than twenty years.
THURSDAY, OCTOBER 14
College of Philology (UCM), Paraninfo
Presided over by

Rossend Arqués

(Univ. Autónoma de Barcelona)

Paolo Borsa

(Univ. de Friburgo): Immagine di pietra (Image of stone)

Rosario Scrimieri Martín

(Univ. Complutense de Madrid): Violenza e male in

Così nel mio parlar

(Violence and evil in Thus in my speech)

Natascia Tonelli

(Univ. de Siena):

Novo pensiero dentro a me si mise. Un addio alla lirica

(A new thought took hold of me. A farewell to the lyric poetry)
11:30: Break time
Presided over by

Nuria Sánchez Madrid

(Univ. Complutense de Madrid)

William Franke

(Univ. Vanderbilt): Dante's New Life for Poetic Language as Theological Revelation in a Modern Secular Key

(La nueva vida del lenguaje poético de Dante como Revelación Teológica en Clave Secular Moderna)

Marco Berisso

(Univ. de Génova): La preistoria della lirica dantesca (The prehistory of Dante's lyric poetry)

Morana Cale

(Univ. de Zagreb): Ipotesi sulla «cagione de la nuova matera» e la trasformazione di

Donne ch'avete intelletto d'amore

nella

Vita nova. (Hypothesis on the «reason of the new substance» and the transformation of Women who have the intellect of love in the New Life)

Presided over by

Eduard Vilella

(Univ. Autónoma de Barcelona)

Luigi Tassoni

(Univ. de Pécs): I livelli del tragico e l'allegoria medievale nel

Purgatorio (The levels of tragedy and medieval allegory in Purgatory)

Marco Veglia

(Univ. de Bologna): La "terza ruota" del cielo del Sole. Teologia e allegoria in Dante secondo Hans Urs von Balthasar (The 'third wheel' of the Sun's sky. Theology and allegory in Dante according to Hans Urs von Balthasar)

Maria Maslanka-Soro

(Univ. de Cracovia): La duplice valutazione della scienza astrologica in Dante come esempio di una polisemia

sensu lato

(The double evaluation of astrological science in Dante as an example of a polysemy in the wide sense)
18:00 Break time
Presided over by

Michele Curnis (Univ. Carlos III de Madrid)

Alberto Casadei

(Univ. de Pisa): Lo statuto del 'romanzesco' nella "Divina commedia": esempi e livelli testuali.

(The status of the 'novelettish' in the "Divine Comedy": examples and textual levels)

Mariano Pérez

Carrasco (Univ. de Buenos Aires): Sulle motivazioni politiche del "romanzo teologico di Beatrice": formazione (e deformazioni) di un

locus classicus

della critica dantesca. (On the political motivations of the 'theological novel of Beatrice': formation (and deformations) of place a classical of Dantesca criticism)

Raffaele Pinto

(Univ. de Barcelona): Istanza lirica (l'endecasillabo) e istanza romanzesca (la terzina).

(Lyrical instance (the hendecasyllable) and novelistic instance; the triplet)
All our activities will be broadcasted live through our channel of