[...]
Visiting Students
Visiting Students
STUDENT REGISTRATION GUIDE
Students, both Spanish and foreign, interested in pursuing studies at the complutense can be enrolled as visiting students. After their first year, visiting students have the ability to take classes in any subject offered by any department.

The most demanded courses might have a 10% access quota related to the availability of places from the scratch
The registration as visiting student has no official validity in Spain.
Bachelor"s degree holders can access to PhD Programmes. An acceptance of the department involved will be required.

Registration for Fall courses begins October 1st and ends November 15th. Registration for Spring courses begins January 15th and ends March 7th

Upon completion of a given course, students will be awarded either a certificate of academic progress or certificate of attendance depending upon whether or not the student is assigned graded work

Once Students have chosen their class schedule

, they must hand in the following documents at the Student Administration Office:
Original and a copy of passport/identity card/residence permit of the person concerned,
2 passport-sized photos,
Updated justification of residency, issued by the Embassy or Consular Section involved in case of Spaniards living abroad,
Résumé,
Certificate of grant/scholarship from a Spanish institution (if any)
8. Specific Rules:
Students interested in Fine Arts should receive consent from the lecturer before enrolling,
Students interested in Veterinary studies should receive authorization from the International Relations assistant Dean of the respective department before enrolling,
Students interested in Biology should receive authorization from the Director of Exchange Programmes in the Biology Department before enrolling,
Because of high demand only 6 placements per class are offered to visiting students in the Anthropology, Political Sciences & Public Administration, International Relations and Sociology courses,
The number of placements for visiting students at the Faculty of Media & Communication Science will be approved every academic year for the following courses: Journalism, Advertising and Public Relations and Audiovisual Communication. This information will be provided by Student Administration Office,
Students interested in Dentistry should receive authorization from the Dean of the Faculty of Dentistry before enrolling,
Students interested in Medicine should receive authorization from the International Relations Assistant Dean in the appropiate department (Medicine, Human Nutrition and Occupational Therapy) before enrolling.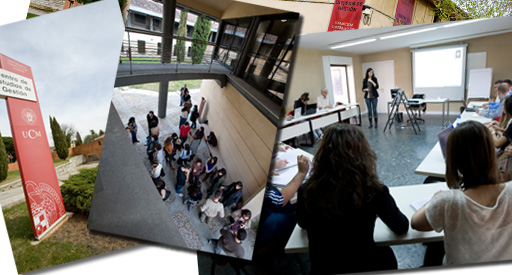 Oficina para Estudiantes Visitantes
Edificio de Estudiantes
Avda. Complutense, s/n
28040 - MADRID

91 394 1492
Ciudad Universitaria
G,U,82,132

Horario curso 2017-2018:
Mañanas: Lunes a viernes de 09:00 a 14:00 h.
Tardes: Martes, miércoles y jueves de 15:30 a 17:30 h.