Profesor Dr. Leopoldo García Sancho
Profesor Dr. Leopoldo García Sancho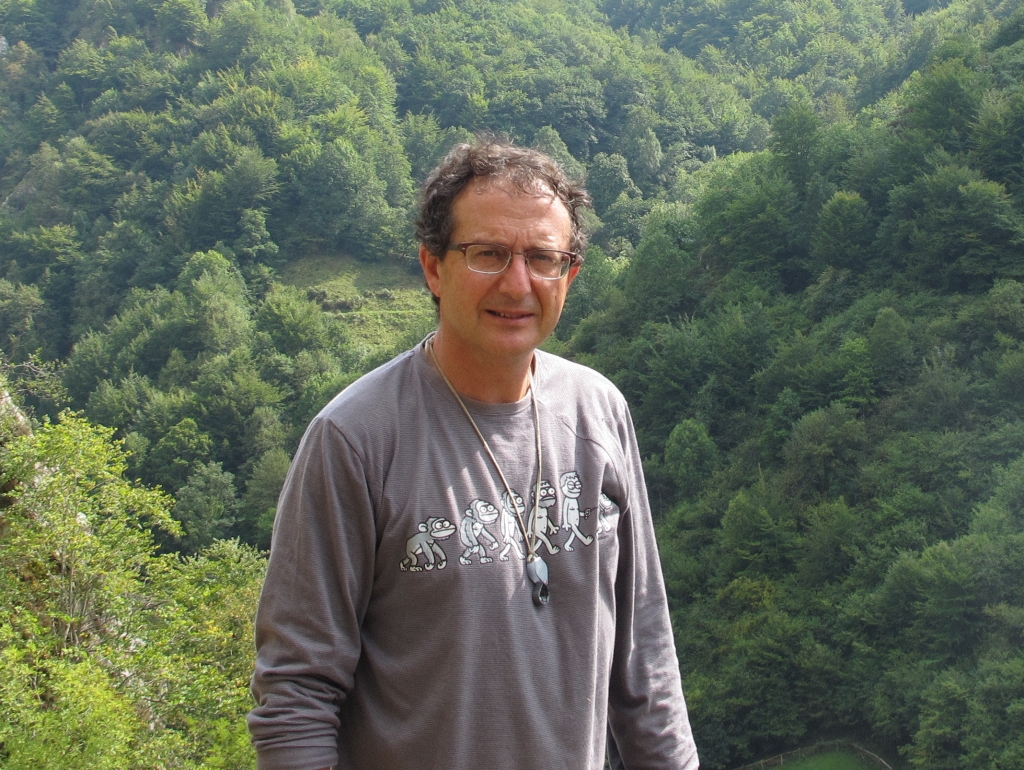 Personal data
Name: Leopoldo García Sancho
Date and place of birth: 10th October 1956 in Madrid (Spain)
Educational background
1978: Thesis of graduation in Biology at Universidad Complutense de Madrid, Faculty of Biology (first class)
1986: PhD Thesis at Universidad Complutense de Madrid (first class)
Current position title: Full Professor of University (Universidad Complutense de Madrid, Faculty of Pharmacy, Department of Plant Science)
Present research/professional speciality:
Considerable experience on ecology and diversity of alpine and polar Antarctic lichens and mosses.
Considerable experience both in Spain and Germany in the use of advanced gas exchange and fluorescence systems for measuring photosynthesis.
Considerable research experience on lower plant ecophysiology in Mediterranean high mountains, badlands and Antarctic ecosystems.
Leader or invited investigator of twelve expeditions to Antarctica with one (1989) including the first measuring of the gas exchange of crustose lichens in the Antarctic and other (2003) including a survey across the Transantarctic mountains (83-84ºS).
Head of the first Spanish exobiology experiment supported by the European Space Agency (2005).
Head of the IPY Project "Glacier retreat, colonization processes and gen flow in primary plant communities from the arctic and Antarctic (POLAR-PIONER)".
Years as practising researcher: 28
Number of refereed publications: 125
Other publications not included above: 12 book chapters
Exceptional qualifications:
Participation as leader in the Antarctic expeditions of 1988-1989, 1989-1990, 1990-1991, 1991-1992, 1994-1995, 1995-1996 and 2001-2002, at the Spanish Base Juan Carlos I (Livingston Island, South Shetland, Antarctica).
Participation in the Antarctic expeditions 1999-2000, 2000-2001, 2002-2003, 2006-2007, 2008-2009 and 2010-2011 at the Scott Base (Victoria Land), as Invited Scientist by Antarctica New Zealand.
Secretary of the International Association for Lichenology (IAL) from 2000 to 2008.
Member of the Editorial Board of the journal POLAR BIOLOGY (Springer, Germany) since 2008.
Honorary Member of the Societa Lichenologica Italiana since November 2000.
Member of the SpanishAcademy of Sciences since 2008.
Spanish Representative in the Life Science Standing Scientific Group of the Scientific Committee on Antarctic Research (SCAR) since 1994.
Visiting Professor at Botanisches Institut, University of Kiel, Germany (several times between 1990 - 2000).
Research Associate of the Departament of Biological Sciences, University of Waikato, Hamilton (Nueva Zelanda), since January 2006.
Príncipe de Asturias Award 2002 for International Cooperation (as member of the SCAR).
Fellow of the Linnean Society of London since May 2011.
Ten selected publications of the last ten years:
De los Rios, A., Wierzchos, J., Sancho, L.G. & Ascaso, C. (2003) Acid microenvironments in microbial biofilms of antarctic endolithic microecosystems. Environmental Microbiology 5: 231-237.
Sancho, L.G. & Pintado, A. (2004) Evidence of high annual growth rate for Antarctic lichens. Polar Biology 27: 132-317.
Wierzchos, J, Sancho, L.G. & Ascaso, C. (2005) Biomineralisation of endolithic microbes in rocks from the Antarctic Ross desert: implications for microbial fossil formation and their detection. Environmental Microbiology 7: 566-575.
Wirtz, N., Printzen, Ch., Sancho, L.G. & Lumbsch, Th. (2006) The phylogeny and classification of Neuropogon and Usnea (Parmeliaceae, Ascomycota) revisited. Taxon 55: 367-376.
Sancho, L.G., de la Torre, R., Horneck, G., Pintado, A., Ascaso, C., Wierzchos,J., de los Rios, A. & Schuster, M. (2007) Lichen survive in the space. The BIOPAN-5 Experiment. Astrobiology 7: 443-454.
Sancho, L.G., Green, A. & Pintado, A. (2007) Lichen growth. Slowest to fastest: extreme range in lichen growth rates supports their use as an indicator of climate change in Antartica. Flora 202: 667-673.
Pérez-Ortega, S., De los Ríos, A., Crespo, A. & Sancho, L.G. (2010) Symbiotic life-style and phylogenetic relationships of the bionts of Mastodia tessellata (ascomycota, incertae sedis). American Journal of Botany 97:738-752.
Sancho, L.G., Palacios, D., Green, T.G.A., Vivas, M. & Pintado, A. (2011) Extreme high lichen growth rates detected in recent deglaciated areas in Tierra del Fuego. Polar Biology 34:813-822.
J. Raggio & T. G. A. Green & P. D. Crittenden, A. Pintado & M. Vivas, S. Pérez-Ortega, A. De los Ríos & L. G. Sancho (2012) Comparative ecophysiology of three Placopsis species, pioneer lichens in recently exposed Chilean glacial forelands. Symbiosis 56 : 55-67.
Schroeter, B., Green, T.G.A., Kulle, D., Pannewitz, S., Schlensog, M., Sancho, L.G. (2013) The moss Bryum argenteum var.muticum Brid. is well adapted to cope with high light in continental Antarctica. Antarctic Science doi:10.1017/S095410201200003X